Check out the beautiful new website for Feeding Minds Press, the children's book publishing project from the American Farm Bureau Foundation for Agriculture!
Feeding Minds Press strives to publish engaging children's books about modern agriculture.
What does that mean?
Their books focus on what farms really look like today – not 100 years ago, and the stories are as fun as they are educational.
Farms across America can be small, medium, or large – but they have a few things in common.
They use technology – from apps on smartphones, tractors that use GPS technology, drones to scout crops, automatic milking machines, digesters that turn poop into energy, irrigation systems, and more. Farmers, like many of us, are working smarter not harder and we show that agriculture can be an exciting career field.
Farms don't have any talking animals. We might make voices for our own pets at home, but in real life animals don't talk – and neither do the farm animals in our books. Books with talking animals can be fun to read, but that's not an accurate depiction of agriculture.
Today farms aren't full of pitchforks, straw hats, and overalls. Farmers still love overalls, but that isn't always what they wear! Farmers across the country are becoming more diverse every year – and more women are taking an active role in farm operations. We show that there is a space for everyone in agricultural careers and fields.
Feeding Minds Press books tell the story of agriculture and those who live it and work it. We know farmers and ranchers care about their land, animals, and communities and our books reflect that. How do we know? Because we know farmers.
What does the website offer? 
New pages on the website include: Information for Teachers & Librarians, About Us, and a Permissions page. Each book page features a look inside option, summary, and additional learning information.
There are some wonderful books there!  Check out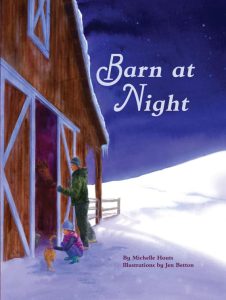 Barn At Night, which just won a Silver Moonbeam Award for Pictures Books 4-8. This is a heartwarming family story perfect for those colder months!
---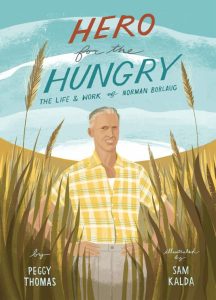 Or take a look inside Hero for the Hungry: The Life and Work of Norman Borlaug which is a great read for anyone ages 10 and up.
---
Hope you enjoy the new site!