The RIFB Young Ag Professionals program provides leadership in building a more effective Farm Bureau to preserve our individual freedoms & expand our opportunities in ag. In 2019, we changed our name from the Young Farmers and Ranchers to better reflect the broad careers that make up agriculture and its support system. Where would farmers be without veterinarians, equipment manufacturers, animal nutritionists, plant scientists, bio-engineers and more? We all make up agriculture and the goal of renaming our group is to encourage young people in all areas of agriculture and it's associated fields to join us. We are a part of the AFBF Young Farmer and Rancher program.
Find out more about what we are doing on our Facebook page.
Young Ag Professionals Committee 2019-2020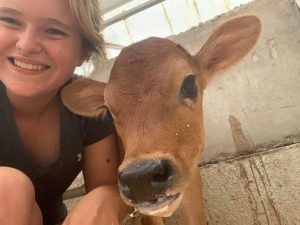 Maggie LaPrise is the 2019-2021 Young Ag Professionals Chairperson for Rhode Island Farm Bureau. Maggie is no stranger to Rhode Island Agriculture. She is currently a Junior at Penn State-World Campus where she is getting her Bachelors in Ag Business. Maggie also works full time on her family's dairy farm and helps to manage the newly opened EMMA Acres Farm Stand. Growing up she was an active member in the SRI 4-H Dairy Club and has been the Dairy Quiz Bowl Coach for the last two years. While Maggie was a student at URI, she worked in the State 4-H Office, which gave her the opportunity to see all the areas of 4-H and how diverse the programs are. Not every project area is animal-focused like hers had always been. This experience also helps Maggie in leading the YAP program. Rhode Island agriculture is very diverse, and the young professionals come from all different agricultural backgrounds which makes the programs very unique. Maggie is excited about what she and her fellow Executive Committee members have planned for this year, and she hopes to see a lot of Young Ag Professionals get out there and get involved!
---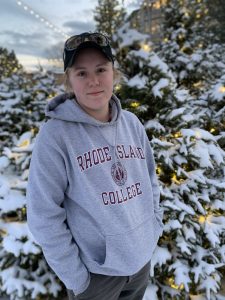 Hi everyone! My name is Meg Quinn, I am the Vice-Chair of Young Ag Professionals. I grew up on a small farm raising turkeys, layer hens and a few beef cows here and there. I recently received a USDA Youth Loan and was able to start my dream flower farm. I have always enjoyed working with plants and flowers growing up, so I was happy for the opportunity to start my own business with cut flowers. I am currently a sophomore majoring in Elementary Ed at CCRI, and will be transferring to RIC for the fall to complete my bachelors there.I am excited to be a part of the Young Ag Professionals and to work with my team to plan some awesome events!
---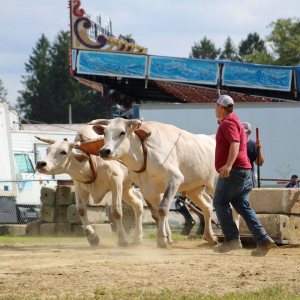 Welcome everyone! I am Aaron Gathen and I am the new Young Ag Professional Treasurer. I am an Agriculture Teacher at Narragansett High School and I am the State Advisor for the Rhode Island FFA Organization. I also work at a dairy farm over the summer making hay and working all of the crops. A unique hobby of mine is pulling oxen and going around to the fairs throughout the summer . As a YAP board member we are planning on running some awesome activities for our members over the course of our term!
---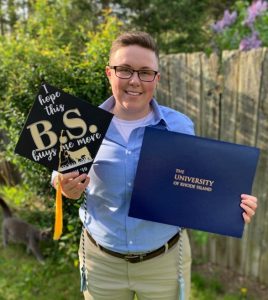 Sarah McCormick is the proud co-owner of Little Falls Farm in Greene, Rhode Island. Little Falls Farm was established in 2004, originally starting with dairy goats and beef cattle for 4-H projects. Sarah was an avid member of Rhode Island 4-H and FFA where she exhibited livestock, participated in public speaking competitions, and much more. Over the last sixteen years, Little Falls Farm has become the home to over thirty head of Southdown and Border Leicester sheep, which are raised for locally produced meat, fiber and show stock. Sarah also judges livestock competitions in Rhode Island, Connecticut and Massachusetts for 4-H, youth and county shows. She is also a local sheep shearer in Rhode Island.
Sarah graduated from the University of Rhode Island in 2019 with her bachelor's degree in Animal Science and Animal Management. She has been a veterinary technician in Rhode Island for the last five years. Sarah is involved with many 4-H and agricultural organizations as well, including the Rhode Island Sheep Cooperative, The Northeast Southdown Breeders Association, The Southern Rhode Island 4-H Fair Committee, and many more. With her involvement with Young Agricultural Professionals, Sarah hopes to involve the Rhode Island youth with building their strengths through their agricultural paths in professional ways. Sarah's objectives are to include the integrity of Rhode Island's local food systems into the Young Agricultural Program to strengthen the core foundation of the Rhode Island Farm Bureau and therefore the core values of the farmers and ranchers that we support.