Please use the above link to access all of our aggregated COVID-19 related links and information.  RIFB is providing this information to help farmers and consumers to navigate this changing and often confusing situation we are currently experiencing. We want to thank all the groups which have shared information with us.
---
Latest FSA Announcements
& Program Deadlines:
We are entering the last 30 days for producers to apply for funds under the Coronavirus Food Assistance Program – Phase 2. 
This program has very broad opportunities for many
It includes opportunities for financial support for aquaculture,
nursery crops, vegetables, floriculture, maple sap/syrup,
apples, blueberries, pears and even Christmas trees.
These funds are based on 2019 sales and are paid directly to the producer.
They are NOT loans.
The vast majority of crops produced in RI are eligible for assistance under the program. The eligible RI crops can be seen at the link: 
 www.farmers.gov/cfap/tool.
The payments range from 8.8 to 10.6% of a farms 2019 sales. Click here for details: 
CFAP 2 Payment Scale
The Rhode Island office has already paid out over $600,000 of funds to eligible producers and has a similar amount pending in applications submitted. The average producer takes less than 2 hours to gather documents and complete applications. So the payout is quite high for the time needed.
Rhode Island has the most expensive agricultural land in the country. We are among the most expensive places to conduct agriculture businesses. So please take advantage of this opportunity to continue your economic survival. If you have any questions or want to submit an application please reach out. Let's not miss the December 11, 2020 deadline.
______________________________
W. Michael Sullivan, PhD
USDA State Executive Director
60 Quaker Lane Suite 62
Warwick, Rhode Island 02886
401-822-8802
---
(*UPDATED 10/14 to Include Indoor Farmer's Markets)
These guidance documents covers some of the major questions which have been asked such as:
– What COVID-19 Guidance should farms follow?
– Is physical distancing needed on hayrides and in corn mazes?
– Can agri-tourism operations still host birthday parties or other group gatherings?
They also includes the links to the associated guidance documents on Reopening RI.
Phase III guidelines for farmer's markets, on-farm markets and agritourism, and pick-your-own farms (10.14.20)
---
Drought Help for Farmers
Please read this Drought Letter to Farmers from RI Division of Agriculture Chief, Ken Ayars
RI DEM:    Pond maintenance such as dredging out accumulated sediment is generally an exempt activity not requiring a permit and may be an important response to drought conditions.  The exemption pertains to farmers who meet the definition in the wetlands act and must be done in accordance with good management practices. 
Please contact Howard Cook of the Division of Agriculture at howard.cook@dem.ri.gov  or (401) 222-2781, Ext. 4504.
---
*NEW*- Secretarial Designation S4808 – RI

Drought Assistance
A Secretarial disaster designation has recently been issued for all 5 counties in Rhode Island as primary natural disaster areas due to recent drought conditions. A Secretarial disaster designation makes farm operators in primary counties and those counties contiguous to such primary counties eligible to be considered for certain assistance from the Farm Service Agency (FSA), provided eligibility requirements are met. This assistance includes FSA emergency loans. Farmers in eligible counties have 8 months from the date of a Secretarial disaster declaration to apply for emergency loans. 
The 
USDA Farmers Guide to Farm Bill
programs contains comprehensive information about all NRCS, FSA and RMA programs.  Click the picture below for details or call any of the offices below for program information.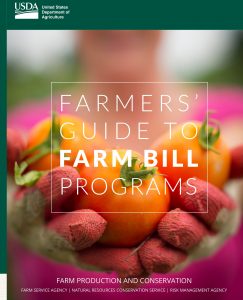 ---
Northeast Greenhouse Conference


Webinar Series (pesticide credits)
The Northeast Greenhouse Conference and Expo has announced that they will offer a webinar series this fall, beginning Nov. 4 sponsored by New England Floriculture Inc., in order to deliver content relevant to greenhouse pests, diseases, biocontrols, PGRs, and sanitation.  Although having to postpone the Northeast Greenhouse Conference and Expo to 2021 due to the Coronavirus pandemic is regrettable, the hope is that these webinars will provide important education (and pesticide recertification credit) for the greenhouse community in 2020. Pesticide recertification credits will be offered for the New England States and New York.
Visit https://www.negreenhouse.org/virtual-series-schedule.html for the dates/topics and registration information.
---
Latest FSA Announcements
& Program Deadlines:
USDA is implementing an expansion of the Coronavirus Food Assistance Program (CFAP). The Coronavirus Food Assistance Program 2, CFAP 2, will provide producers with financial assistance that gives them the ability to absorb some of the increased marketing costs associated with the COVID-19 pandemic. This week, USDA announced up to an additional $14 billion for agricultural producers who continue to face market disruptions and associated costs because of COVID-19. Signup for the Coronavirus Food Assistance Program 2 (CFAP 2) will begin September 21 and run through December 11, 2020.
Producers have several options to apply for the program through farmers.gov/cfap. A new "CFAP 2 Eligible Commodities Finder" will help customers find payment rates and the information specific to the commodities they grow or raise.

USDA's Farm Service Agency offers multiple options for producers to apply for CFAP 2, including:

A manual AD-3117 application form to fill out and return to the RI FSA County Office located at 60 Quaker Lane Suite 49 Warwick, RI 02886 (401) 828-3120 Option 2.
A CFAP 2 Application Generator and Payment Calculator Excel workbook that allows you to input information specific to your operation to determine estimated payments and populate the application form.
A CFAP 2 Application Portal for producers with eAuthentication accounts to apply online.

FSA will be accepting applications through Dec. 11, 2020.  Producers interested in applying should contact the RI FSA County Office at 401-828-3120 Option 2.

 

Seafood Disaster Program
Upcoming FSA Program Deadlines:
October 31st, Deadline to submit applications under OOCSP.
November 2nd, County Committee Election Ballots will be mailed to eligible voters located in Washington County RI.
November 20th, Deadline to insure Perennial Crops, Grass, Mixed Forage, Alfalfa, Perennial Forage under NAP.
December 11th, Last day to file your application under the Coronavirus Food Assistance Program 2 (CFAP 2)
December 14th, Deadline for Fishermen to sign-up for relief through the Seafood Trade Relief Program.
December 31st, Deadline to insure Specialty Type Crops; Honey, Maple sap under NAP.
Please feel free to pass this information on.  If producers wish to stay up-to-date on new programs, important program deadlines, program eligibility requirements, changes in federal farm program policy etc. Subscribe to receive email notifications from FSA online at www.fsa.usda.gov/subscribe.  Text messages: Receive text message alerts from FSA while on the go. To enroll to receive text message alerts from Rhode Island text RIKent to 372-669.
Please visit our state website including USDA's Farmers.gov for the latest program information and updates.
If there are questions related to the latest announcements please feel free to contact me via e-mail at Leila.naylor@usda.gov.  If there are any questions related to the upcoming deadlines mentioned above, please contact the Rhode Island County FSA Office at 401-828-3120 Option 2.
---
Governor Raimondo launches
Take It Outside initiative on August 31
From Michael J. Healey, Chief Public Affairs Officer
Rhode Island Department of Environmental Management
"As you may know, Governor Raimondo today launched Take It Outside – a statewide initiative to promote and support businesses taking their work outdoors.
With recent research suggesting that people are far likelier to contract the coronavirus in an indoor setting versus an outdoor setting because of the large volume of clean air available outside, agencies across state government are collaborating to offer restaurants, retail establishments, and nonprofit groups more access to city streets and sidewalks for outdoor business activity, providing Wi-Fi hotspots across the state so that corporate businesses can hold meetings outside instead of in conference rooms, and allowing businesses to access certain state properties for daily activities.
DEM wants to ensure that farms, agricultural businesses, food businesses – really, all the key people and partners who are committed to building a local, sustainable food system in Rhode Island – are positioned to take advantage of the platform afforded by the Take It Outside initiative. Click here to visit the new website.
Think of ways that your organization already is promoting outdoor activities and link them with Take It Outside. For example: publicizing the fun things you can do on farms in the fall – apple picking, pumpkin patches, corn mazes, pick your own flowers, etc. Or maybe farmers who have event space for agritourism functions, or tents, could consider offering / marketing it more broadly for use for board meetings, classes, trainings, dining, etc.?
With the COVID-19 pandemic having battered so many sectors of the RI economy including agriculture, DEM simply doesn't want anyone who could profit from Take It Outside to miss out on it. Whether you are able to take advantage of it or not, please remember that it's EEE season. So, along with wearing your face mask, use bug spray!
Thanks, as always, for your partnership in making Rhode Island a greener, fairer, friendlier, and more sustainable place."
---
RI State Guidance Documents 

for Agriculture
This guidance is applicable to farmer's markets, on-farm markets and agri-tourism, where vendors sell food, plants, flowers and/or agricultural, farm or seafood products and farms that have pick-your-own operations. Vendors or operators who sell non-agricultural or non-seafood products (e.g. flea markets, yard sales, other outdoor retail) must follow the guidance for market retail or other applicable guidance available on
reopeningri.com.
An organization must develop a written COVID-19 Control Plan outlining how its workplace will prevent the spread of COVID-19. A business/organization may fill out this template to fulfill the requirement that it complete a COVID-19 Control Plan. If you have questions, please ask them by emailing: planquestions@reopeningri.com
This plan does not need to be submitted to a state agency for approval but must be retained on the premises of the business and must made available to the Rhode Island Department of Health (RIDOH) in the
event of an inspection or outbreak.
If you have any questions on the above guidance, please feel free to email director@rifb.org or call the office at 401-385-3339 and we will help you to get answers.
---
Weekly Local Agriculture/Food and COVID-19 Discussion
Join the RI Division of Agriculture and partner organizations to discuss topical COVID-19 resources, concerns, and other relevant information to support our agricultural sector in this difficulty time.
Calls occur Tuesdays at 1 pm by Zoom, call information is below which stays the same each week.   Notes from previous calls can be found HERE.
Join Zoom Meeting
https://zoom.us/j/91833528799
Meeting ID: 918 3352 8799
Dial by your location
        +1 929 205 6099 US (New York)
        +1 301 715 8592 US (Germantown)
        +1 312 626 6799 US (Chicago)
---
FMCSA has extended, until September 30, 2020, a waiver from certain regulations applicable to interstate and intrastate commercial driver's license (CDL) and commercial learner's permit (CLP) holders and to other interstate drivers operating commercial motor vehicles (CMVs). The Agency has initiated this action in response to the President's declaration of a national emergency under 42 U.S.C. § 5191(b) related to Coronavirus Disease 2019 (COVID-19).
---
Webinar Dates & Topics:
These FSA Webinars are all completed.  Archived webinars may be found at the above link as well as here.
---
Rhode Island farmers: you can open a new market for your business while helping your less fortunate neighbors during the COVID-19 crisis. Learn how to apply to be an authorized retailer to accept SNAP (Supplemental Nutrition Assistance Program — formerly Food Stamp Program) benefits. This will allow you to accept SNAP benefits at your retail farm stand, CSA, and through home delivery. Click here for the Guidebook.
---
---
With stores offering limited grocery items, we are seeing an uptick in requests for where to buy farm products.
We are compiling a list of our member farms that are open for sales to the public at this time. If you would like to be included on this list, please click the link above for more info.
---
Click here to learn more about available SBA loan and debt relief options.
If you are having trouble finding a lender or have questions about the EIDL Program contact RhodeIsland_DO@sba.gov
---
Providing information relevant to Northeast Ag and customers of Farm Credit East.  Includes information regarding the Paycheck Protection Plan, CARES Act basics, tax planning , payroll, webinars and reports on COVID-19.
---
Soil Nutrient Analysis
It's planting season and with that comes the question: Where can I get my soil tested.  At this time we recommend Midwest Labs in Kansas.
---
COVID-19 (Coronavirus) in Animals
RI DEM and RI DoH have co-authored the following page:  
You may also go to this CDC link:
---
The Spotted Lanternfly (Lycorma delicatula)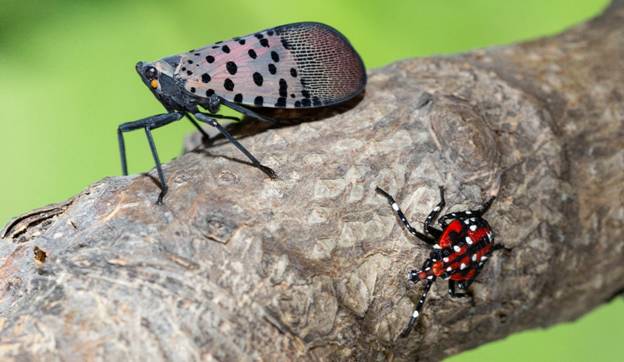 The spotted lanternfly (Lycorma delicatula) is an invasive planthopper currently spreading through the Mid-Atlantic and Eastern US. Although the spotted lanternfly is not currently found in Rhode Island, but has been seen in Western Connecticut. Potential spread of this insect threatens our region's grape, tree fruit, hardwood, and green industries. Please click the photo above to go to the URI Dept. of Plant Sciences and Entomology Spotted Lanternfly page for more information.
Free Soil Testing for Landowners!
RI State Conservation Committee (RISCC) has a soil health agreement with NRCS by which they do free soil testing for landowners. The program is absolutely free, and after the results are back, the appropriate conservation district will work with the landowner on programs he/she may want to implement based on results. Please see the attachment below for more information.
HOW CAN MY FARM'S SOIL HEALTH BE EVALUATED?
Have a Comprehensive Soil Health Assessment conducted on your cropland, hayland or pasture. This Regional Conservation Partnership Program (RCPP) for enhancing Soil Health provides access to Cornell University's Comprehensive Assessment of Soil Health when you apply for technical assistance. The Conservation District Soil Health staff will collect soil samples fr m your property, send the samples to Cornell Soil Health Testing Lab and interpret those results in a Soil Health Management Plan.
---
Ford $500 Bonus Cash!
Rhode Island Farm Bureau (RIFB) is pleased to announce the newest member benefit. Farm Bureau members in Rhode Island can now receive a $500 Bonus Cash offer from Ford Motor Company or $750 Lincoln Motor Company on a purchase or lease of a new qualifying vehicle. Please click here for more information.
---
Take a Stand for Clean Water and Clear Rules
EPA has proposed a revised definition of "waters of the United States," which would clarify regulatory authority under the Clean Water Act. You would not need a lawyer or consultant to know what is, and what is not, regulated.
Farmers know best when it comes to enhancing the environment they rely on. Good farming and a good environment go hand in hand! That's why we need both clean water and clear rules.
Farmers and ranchers care about clean water and work hard to protect our natural resources. As farmers and ranchers continue to reduce the environmental footprint of farming and ranching, they need a new common-sense water rule that protects water quality and gives them clear rules they can follow.
Click here to learn more about the new Clean Water Rule.
Click here to go to American Farm Bureau's page about the Clean Water Rule. You can send a comment to the EPA, and if you do, please edit the text to make it your story. Personal stories make the most impact.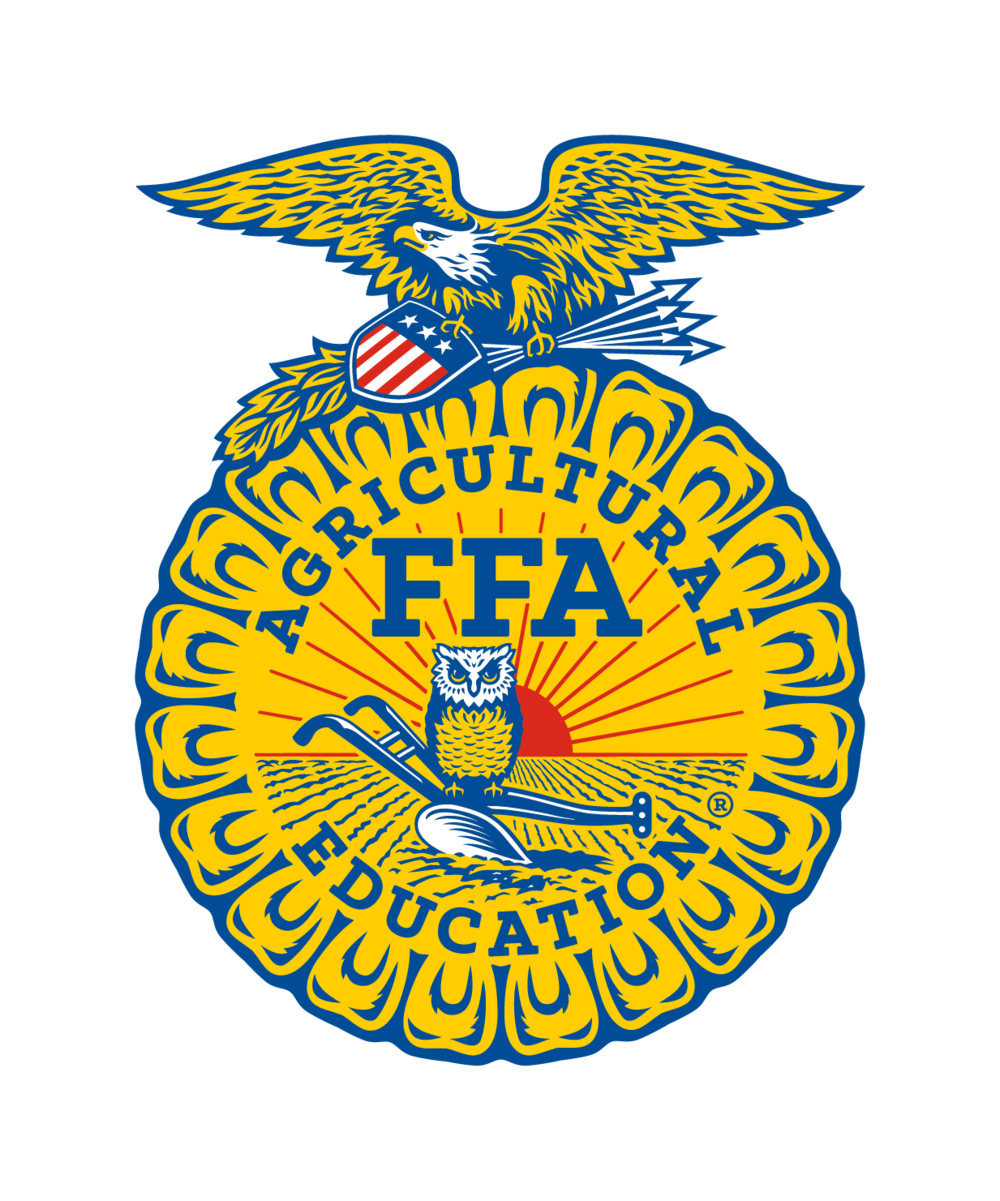 Langevin Bill to Support Agriculture Education Signed into Law
Legislation updates the FFA (formerly Future Farmers of America) charter to enable the organization to better serve its 669,000 student members.

WASHINGTON –President Trump has signed into law bipartisan legislation to modernize the charter of the National FFA Organization. The National FFA Organization's Federal Charter Amendments Act was led by Congressional Career and Technical Education Caucus (CTE) co-chairs Congressmen Jim Langevin (D-RI) and Glenn 'GT' Thompson (R-PA) in the House, and Senator Todd Young (R-IN) in the Senate.
"FFA has long been instrumental in preparing future generations of agricultural leaders in Rhode Island and in communities throughout the nation," said Langevin. "I have seen the impact of education on the agriculture sector through interactions with my Food First Advisory Committee, and I have also seen the impact of the agriculture sector on our state's economy. The updates in this bill will provide FFA with the tools to continue its important mission and better equip its student members for 21st Century careers. This bill reflects broad bipartisan consensus on the importance of FFA to the larger career and technical education landscape. I thank my colleagues from across the aisle, Congressman Thompson and Senator Young, for working with me to ensure a successful future for FFA."
FFA is a federally-charted, non-profit organization that partners with the U.S. Departments of Education and Agriculture. Currently, FFA is the only organization with a federal charter required to have the majority of its board members selected by a partner government agency. The National FFA Organization's Federal Charter Amendments Act grants FFA increased independence over the selection of its board to better reflect the diverse stakeholders in the organization while still maintaining the critical federal partnerships.
"High school students have benefited greatly from FFA's agricultural education and training programs for decades," said Henry B. Wright, President of the Rhode Island Farm Bureau. "I commend Congressman Langevin and his colleagues for making these important updates to FFA that will further strengthen agriculture education for Rhode Islanders and students across the nation."
"This is an important step for the future of FFA. The law now specifically recognizes the integral nature of FFA and agricultural education," said Mark Poeschl, Chief Executive Officer of the National FFA Organization and Foundation. "We're thankful for the support we received and look forward to our student delegates and board members having new opportunities and flexibility to grow our organization."
The National FFA Organization's Federal Charter Amendments Act passed the U.S. House of Representatives on January 22 and the U.S. Senate on February 5. It is the seventh bill to be signed into law this year.
Read the full text of the bill.
2019 Local Agriculture and Seafood Act (LASA) Grants Program
The Rhode Island Department of Environmental Management, Division of Agriculture is accepting grant applications for the Local Agriculture and Seafood Act Grant Program. The goal of the program, which was established by the Local Agriculture and Seafood Act (LASA) of 2012, is to support the growth, development, and marketing of local food and seafood in Rhode Island. It is made possible by $120,000 in funding from the State of Rhode Island. The total amount available for awards this year is significantly lower than in previous years due to the loss of private foundation funding. The number of projects funded will likely be smaller. Please plan a focused and efficient application. Deadline for submissions is Friday, March 8. For more information and an application click here.

2019 Specialty Crop Block Grant Program
The RIDEM/Division of Agriculture is pleased to announce the award of $276,614 in Farm Viability grant funds for the purpose of enhancing the Competitiveness of Specialty Crops grown in Rhode Island.
Specialty crops are defined by this federally supported program as fruits and vegetables, dried fruit, tree nuts, and nursery crops including floriculture such as Christmas Trees, cut flowers, honey, hops, and turf grass production. Examples of enhancing the market competitiveness of specialty crops include, but are not limited to: Research, promotion, marketing, nutrition, trade enhancement, food safety, food security, plant health programs, education, "buy local" programs, increased consumption, increased innovation, improved efficiency and reduced costs of distribution systems, environmental concerns and conservation, product development, and developing cooperatives. Applications, accompanied by a W9 form, must be postmarked no later than March 31, 2019. For more information click here.
2018 AFBF Impact Report
impact would not have been possible without the strength of our engaged grassroots advocates, our state Farm Bureau peers, and our industry partners. The signing of the 2018 farm bill was symbolic of the impact we can have when agriculture works together to speak on behalf of U.S. farmers, ranchers and rural Americans.
Farm Bill Signed Thursday, December 20
On December 20, a group of AFBF representatives was invited to the Whitehouse to watch President Donald J. Trump sign the 2018 Farm Bill into law. AFBF President Zippy Duvall released the following comment:
"The Agriculture Improvement Act—H.R. 2—is now law. Enactment means risk management tools, foreign market development and environmental stewardship programs continue to be available, and on terms that reflect a much tougher farm economy than the one we faced when the last farm bill became law.
"The farm bill helps to ensure the food security and economic security of our nation. Directly or indirectly, it benefits everyone in towns large and small. This farm bill:
Brings another five years of certainty to farm and ranch families;
Upholds fiscal responsibility by being budget neutral;
Improves risk management programs;
Protects crop insurance;
Funds much-needed trade development;
Invests in the future with funding for ag research and beginning farmer programs; and
Continues nutrition assistance (three-quarters of total farm bill funding) for lower-income Americans.
"We are grateful to President Trump for his support. We also thank Chairmen Roberts and Conaway and Ranking Members Stabenow and Peterson for producing legislation that passed with strong, bi-partisan support. We look forward to working with Agriculture Secretary Perdue as he and his team at USDA implement this law and put new program provisions in place quickly.
As RIFB renewals are rolling out, remember to keep your membership current to maintain your American National* Insurance discount!
American National offers a full line of insurance products through a local agent. That way they can help you ensure that your property and liability insurance needs are covered. So, whether it's auto, home, life, farm or business insurance, you can feel confident you're getting options to fit your lifestyle and budget.
Your current Rhode Island Farm Bureau membership entitles you to discounts on:
– 5% discount for personal auto
– 3% discount for the SFP, including Country Estate Insurance
– 3% BOP discount up to $100. (Certain classes not eligible for the discount, ask your agent.)
Contact your American National agent to make sure you are getting the best discount.
Not an American National Insurance customer? To find out more about American National Insurance, click the following link to find an agent near you. www.americannational.com.
*Previously know as Farm Family under the American National umbrella.
RI Sales Tax Exemption on Seeds and Plants
Late this spring we had several calls regarding the Sales Tax Exemption on Seeds and Plants. We are happy to say that after considerable work trying to get seeds and plants used to grow food and food ingredients exempted from the state sales tax, the following changes were passed in last year's state budget. State Budget link here. Page 178, lines 11-14.
Here is the much abbreviated, relevant text.
Sales and Use

Taxes

– Liability and Computation
§ 44-18-30. Gross receipts exempt from sales and use

taxes

.
There are exempted from the

taxes

imposed by this chapter the following gross receipts:
(65)

Seeds

and plants used to grow food and food ingredients. From the sale, storage, use, or other consumption in this state of

seeds

and plants used to grow food and food ingredients as defined in § 44-18-7.1(l)(i). "

Seeds

and plants used to grow food and food ingredients" shall not include marijuana

seeds

or plants.

44-18-7.1(l)(i). "Food and food ingredients" means substances, whether in liquid, concentrated, solid, frozen, dried, or dehydrated form, that are sold for ingestion or chewing by humans and are consumed for their taste or nutritional value and

seeds

and plants used to grow food and food ingredients. "Food and food ingredients" does not include "alcoholic beverages", "tobacco", "candy", "dietary supplements", "soft drinks", or "marijuana

seeds

or plants."
THE PURPOSE OF THE RI FARM BUREAU
The Rhode Island Farm Bureau is an independent, non-governmental, voluntary organization of farm and ranch families united for the purpose of analyzing their problems and formulating action to achieve advancement and, thereby, to promote the national well-being.
Farm Bureau is local, county, state, national, and international in its scope and influence and is non-partisan, non-sectarian and non-secret in character. Farm Bureau is the voice of agricultural producers at all levels.
Statement from 1997 Policy Manual of the American Farm Bureau Federation.
Support Rhode Island Farms by joining the Rhode Island Farm Bureau.
Your Membership in RIFB entitles you to …
A complete line of insurance services through the Farm Family Insurance Companies
Discounts available on Automobile, Special Farm Packages (inc. Country Estate) & BOP
Discounts on Case IH, CAT, Dungarees.com, Grainger and John Deere
Discount on prescription lenses and frames through Coast to Coast Vision Plan
Discount at participating Choice hotels and Wyndham hotels
Discounts from Avis and Budget.
Thousands of additional discounts when you use your membership number and log into Access Benefits.
Click here to learn more about RIFB membership benefits.