Interested Parties Must Submit Proposals by

Monday, March 1, 2021 at 10:00 a.m.
An Addendum has been issued for RFP 7611830. The addendum, which includes questions received and responses, is available on the Division of Purchases website.  
Please note that the deadline for submitting bid proposals has been extended to March 1, 2021 at 10:00 a.m. Proposals must be received by the State of Rhode Island, Department of Administration, Division of Purchases, One Capitol Hill, Providence, RI 02908 before this date and time. Proposals should clearly reference the RFP # 7611830. The addendum also includes a link to Zoom to watch the bid opening live.
Also note: A Bidder Certification Cover Form is NOT required.  The response from RI Dept. of Purchasing: There was an error. Vendor registration and the Bidder Certification Cover form are not required. The only document required to submit an offer is the "Proposal Offer Form," which is in Appendix C of the RFP.
PROVIDENCE – The Department of Environmental Management (DEM) announces that proposals to lease certain parcels of state-owned land in South Kingstown, Tiverton, and Coventry for farming purposes are now being solicited by the state. Use of the parcels will be restricted to the raising and harvesting of agricultural products, and the lands may not be used for any other purpose.
A Request for Proposals was issued for the following parcels:
• South Shore Management Area – Field 3 (Ford Tract), South Kingstown, RI, 23 acres
• Sapowet Management Area – Babbitt Parcel, Tiverton, RI, 23 acres
• Nicholas Farm – Place Unit, Coventry RI, 23 acres
Appendix C – Proposal Offer Form
For each parcel of interest, the offeror must submit a PROPOSAL OFFER FORM The successful OFFERER shall be solely responsible for meeting all terms and conditions specified in the Request for Proposal, and any resulting lease agreement. The OFFERER recommended for this award will be notified by the Department of Administration.
---
Objective:
The Little Compton Agricultural Conservancy Trust (LCACT) seeks farmers interested in farming in a Southern New England coastal farm community located 45 minutes from Providence and 75 minutes from Boston. With its maritime climate moderating extreme seasonal temperatures, Little Compton and its neighboring South Coast towns in Massachusetts enjoy the longest growing season in New England (Zone 7, on par with mid-Atlantic states).
Since 1986, the LCACT has successfully protected 2,142 acres of rural land in Little Compton from development and owns 657 acres, a portion of which is potentially available for lease to farmers.
LCACT welcomes farm lease proposals from candidates with:
· 3yrs or more years of farming experience
· Solid farming references
· A plan to develop an agricultural enterprise intended to gross approximately $50,000 per year within 5yrs of start-up
· Financial resources (or access to financing) for start-up costs.
Click HERE for more details.
---
DEM'S Farmland Access Program Seeks Proposals from Farmers to Purchase 10-Acre Agricultural Parcel in South Kingstown
A 
Request for Proposals
(RFP) was issued on January 14, 2021,  through the
Farmland Access Program,
a voluntary program approved by voters as part of an environmental bond measure, to help ensure Rhode Island's farmlands remain in farming. The 10-acre parcel of farmland in South Kingstown is the first project to go forward under this new program, in which DEM purchases farmland and retains its development rights, and then sells it affordably to a farmer-buyer. 
Although Rhode Island has over 1,000 farms and the state's network of young farmers continues to grow, access to farmland continues to be a challenge for many farmers. Farmland values in Rhode Island are among the highest in the country and lack of access to affordable farmland threatens the continued viability of local agriculture. Over the past several years, DEM has experienced a growing interest from both expanding and new farmers seeking affordable land to farm.  
The voluntary Farmland Access Program is one way that DEM is addressing this challenge. It allows the Department to partner with the RI Agricultural Land Preservation Commission (ALPC) and willing sellers to purchase unprotected farmland, protect it, and affordably sell it to farmers looking for land. The voluntary program supports farmers by giving landowners an option that will keep historic farmlands available for farming.
The program operates in three steps. First, after a selection process, a willing seller voluntarily sells DEM a parcel of unprotected farmland. The purchase price for the farmland – both when purchased by DEM and when sold to a farmer – is based on appraised fair market value. Second, a public advisory committee made up of members of the farming community and DEM, accepts applications from prospective farmer-buyers and reviews applicants based on criteria such as farming experience, farm business experience, and ability to finance the farm purchase. Lastly, DEM and the ALPC retain the development rights and then sell the farm to a selected farmer-buyer, ensuring an agricultural future for both the land and the buyer.
As part of the 2014 and 2018 Clean Water, Open Space and Healthy Communities bond issues, $5 million was made available for farmland preservation under the Farmland Access Program. The 
Request for Proposals
 provides property details, eligibility criteria, and requirements for submitting a proposal along with the metrics that will be used to select a farmer-buyer. To be eligible to purchase the land, applicants must provide evidence that, for at least two years, they have operated or managed a farm business that has generated at least $5,000 annual gross farm revenues.
DEM continues to work across many fronts to benefit and strengthen Rhode Island's green economy and to assist local farmers and fishers in growing their businesses. There are more than 1,000 farms sprinkled across the state and Rhode Island is home to a thriving young farmer network. DEM continues to make investments in critical infrastructure as well as provide farm incubation space to new farmers through its Urban Edge Farm and Snake Den Farm properties. DEM's Farmland Preservation Program, which purchases development rights from farmers, has helped over 100 farmers retain ownership of their farms and ensure that over 8000 acres of farmland will remain in agriculture. 
SBA EIDL Loans Have Been Fraudulently




Taken out in Others' Names
The RI Farm Bureau has had a number of farms reach out to let us know that SBA (Small Business Administration) Economic Injury Disaster Loans have been taken out, fraudulently, in their farm's name. Fraudulent loans have ranged from $17,600 to $150,000.
Many farms and small businesses have taken out legitimate loans. The loan search in the below Target 12 segment and article does NOT distinguish between legitimate and fraudulent loans. It is simply a tool for you to see if any loans were taken out for your address. Only the amount and street address are listed. Find the address box near the middle of the linked article below.
Target 12 extrapolated a list of every Rhode Island borrower that supposedly participated in the program after the agency was legally compelled to release the information earlier this month. The data shows nearly $562 million was approved for at least 10,000 borrowers with Rhode Island addresses. That's equivalent to more than 10% of the state's small businesses, or outfits with fewer than 500 employees, as defined by the SBA. (The list doesn't include the thousands of loans made through the bridge-loan program known as "Economic Injury Disaster Loans Advance," which were capped at $10,000 each.)
See the updated, January 12, 2021 article below.
__________________________________
Have you had a fraudulent loan taken out in your farm's name?
If so, please contact us at rifarm@rifb.org so that we can keep track of affected farms.
The three methods of reporting the fraud we are recommending are:
SBA Office of Inspector General: OIGhotline@sba.gov
Pdc.suspeidl.fraud@sba.gov
PDC.idtheftcomplaints@sba.gov
In addition, we recommend that you:
1) Go to https://identitytheft.gov/ . This website will guide you to file an identity theft report with the Federal Trade Commission (FTC)
2) Go to one of the three credit reporting agencies:
EQUIFAX, www.equifax.com, 1-888-766-0008
EXPERIAN, www.experian.com, 1-888-397-3742
TRANS UNION, www.transunion.com, 1-800-680-7289
-Put a fraud alert on your credit and freeze your credit report. You only need to do this with one agency. They are required to share it with the other two.
-You can review your credit report. Make note of any account or transaction you don't recognize.
3) Keep copies of any emails or mailings you receive regarding this or any other loan, even if you did not apply for one.
4) Contact RI Farm Bureau at rifarm@rifb.org or call us at 401-385-3339 if you have any questions or want to have us add you to the list. Please watch for additional emails, information on the website, or on our Facebook page regarding this.
Unemployment Fraud
In addition to the above noted SBA Fraud, fraudulent UI claims have been made in many people's name, including here at RIFB.  If you did not file an unemployment claim, but received notice that one was filed in your name, report it to the RI State Police using this link.  You may also Google RI DLT to access the link through the actual Unemployment site.
The following is a form distributed by RI DLT to help guide those who have been affected in protecting their credit and identity. 
DLT Action Steps UI Fraud

---
Please use the above link to access all of our aggregated COVID-19 related links and information.  RIFB is providing this information to help farmers and consumers to navigate this changing and often confusing situation we are currently experiencing. We want to thank all the groups which have shared information with us.
---
The Rhode Island Department of Environmental Management – Division of Agriculture (RIDEM) is pleased to announce the availability of up to $35,000 of funding in grant opportunities to assist eligible Rhode Island farmers and food businesses with projects that have goals to improve quality, efficiency, and food safety.
Rhode Island Produce Safety Improvement Grants help Rhode Island produce growers implement on-farm food safety practices, transition to compliance with the Food Safety Modernization Act (FSMA) Produce Safety Rule, and meet market demands for on-farm food safety.  Please go to RI Produce Safety Improvement Grants for details of eligibility and how to apply!
---
Latest FSA Announcements
& Program Deadlines:
---
(*UPDATED 10/14 to Include Indoor Farmer's Markets)
These guidance documents covers some of the major questions which have been asked such as:
– What COVID-19 Guidance should farms follow?
– Is physical distancing needed on hayrides and in corn mazes?
– Can agri-tourism operations still host birthday parties or other group gatherings?
They also includes the links to the associated guidance documents on Reopening RI.
Phase III guidelines for farmer's markets, on-farm markets and agritourism, and pick-your-own farms (10.14.20)
---
Drought Help for Farmers
Please read this Drought Letter to Farmers from RI Division of Agriculture Chief, Ken Ayars
RI DEM:    Pond maintenance such as dredging out accumulated sediment is generally an exempt activity not requiring a permit and may be an important response to drought conditions.  The exemption pertains to farmers who meet the definition in the wetlands act and must be done in accordance with good management practices. 
Please contact Howard Cook of the Division of Agriculture at howard.cook@dem.ri.gov  or (401) 222-2781, Ext. 4504.
---
*NEW*- Secretarial Designation S4808 – RI

Drought Assistance
A Secretarial disaster designation has recently been issued for all 5 counties in Rhode Island as primary natural disaster areas due to recent drought conditions. A Secretarial disaster designation makes farm operators in primary counties and those counties contiguous to such primary counties eligible to be considered for certain assistance from the Farm Service Agency (FSA), provided eligibility requirements are met. This assistance includes FSA emergency loans. Farmers in eligible counties have 8 months from the date of a Secretarial disaster declaration to apply for emergency loans. 
The 
USDA Farmers Guide to Farm Bill
programs contains comprehensive information about all NRCS, FSA and RMA programs.  Click the picture below for details or call any of the offices below for program information.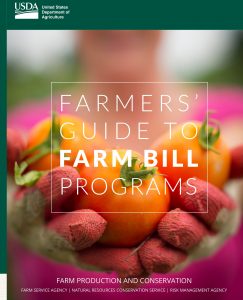 ---
RI State Guidance Documents 

for Agriculture
This guidance is applicable to farmer's markets, on-farm markets and agri-tourism, where vendors sell food, plants, flowers and/or agricultural, farm or seafood products and farms that have pick-your-own operations. Vendors or operators who sell non-agricultural or non-seafood products (e.g. flea markets, yard sales, other outdoor retail) must follow the guidance for market retail or other applicable guidance available on
reopeningri.com.
An organization must develop a written COVID-19 Control Plan outlining how its workplace will prevent the spread of COVID-19. A business/organization may fill out this template to fulfill the requirement that it complete a COVID-19 Control Plan. If you have questions, please ask them by emailing: planquestions@reopeningri.com
This plan does not need to be submitted to a state agency for approval but must be retained on the premises of the business and must made available to the Rhode Island Department of Health (RIDOH) in the
event of an inspection or outbreak.
If you have any questions on the above guidance, please feel free to email director@rifb.org or call the office at 401-385-3339 and we will help you to get answers.
---
Bi-Weekly Local Agriculture/Food and COVID-19 Discussion
Join the RI Division of Agriculture and partner organizations to discuss topical COVID-19 resources, concerns, and other relevant information to support our agricultural sector in this difficulty time.
Calls occur every other Tuesday at 1 pm by Zoom, call information is below which stays the same each call.   Notes from previous calls can be found HERE. Next call is March 2, 2021.
Join Zoom Meeting
https://zoom.us/j/91833528799
Meeting ID: 918 3352 8799
Dial by your location
        +1 929 205 6099 US (New York)
        +1 301 715 8592 US (Germantown)
        +1 312 626 6799 US (Chicago)
---
The U.S. Department of Transportation's Federal Motor Carrier Safety Administration (FMCSA) has extended their modified expanded national emergency declaration to provide hours-of-service regulatory relief to commercial vehicle drivers transporting emergency relief in response to the nationwide coronavirus (COVID-19) outbreak.  The notice extends the exemption through February 28, 2021.
The Emergency Declaration has been in effect since March 18 and grants relief to motor carriers and drivers providing direct assistance in support of relief efforts related to the COVID-19 public health emergency from Parts 390 through 399 of the Federal Motor Carrier Safety Regulations, such as hours-of-service rules.
The extension of Emergency Declaration No. 2020-002 provides regulatory relief for commercial motor vehicle operations providing direct assistance in support of emergency relief efforts related to COVID-19 and is limited to transportation of the following freights:
(1) livestock and livestock feed;
(2) medical supplies and equipment related to the testing, diagnosis and treatment of COVID-19;
(3) vaccines, constituent products, and medical supplies and equipment including ancillary supplies/kits for the administration of vaccines, related to the prevention of COVID-19;
(4) supplies and equipment necessary for community safety, sanitation, and prevention of community transmission of COVID-19 such as masks, gloves, hand sanitizer, soap and disinfectants; and
(5) food, paper products and other groceries for emergency restocking of distribution centers or stores.
---
FMCSA has extended, until September 30, 2020, a waiver from certain regulations applicable to interstate and intrastate commercial driver's license (CDL) and commercial learner's permit (CLP) holders and to other interstate drivers operating commercial motor vehicles (CMVs). The Agency has initiated this action in response to the President's declaration of a national emergency under 42 U.S.C. § 5191(b) related to Coronavirus Disease 2019 (COVID-19).
---
Webinar Dates & Topics:
These FSA Webinars are all completed.  Archived webinars may be found at the above link as well as here.
---
Rhode Island farmers: you can open a new market for your business while helping your less fortunate neighbors during the COVID-19 crisis. Learn how to apply to be an authorized retailer to accept SNAP (Supplemental Nutrition Assistance Program — formerly Food Stamp Program) benefits. This will allow you to accept SNAP benefits at your retail farm stand, CSA, and through home delivery. Click here for the Guidebook.
---
---
With stores offering limited grocery items, we are seeing an uptick in requests for where to buy farm products.
We are compiling a list of our member farms that are open for sales to the public at this time. If you would like to be included on this list, please click the link above for more info.
---
Click here to learn more about available SBA loan and debt relief options.
If you are having trouble finding a lender or have questions about the EIDL Program contact RhodeIsland_DO@sba.gov
---
Providing information relevant to Northeast Ag and customers of Farm Credit East.  Includes information regarding the Paycheck Protection Plan, CARES Act basics, tax planning , payroll, webinars and reports on COVID-19.
---
Soil Nutrient Analysis
It's planting season and with that comes the question: Where can I get my soil tested.  At this time we recommend Midwest Labs in Kansas.
---
COVID-19 (Coronavirus) in Animals
RI DEM and RI DoH have co-authored the following page:  
You may also go to this CDC link:
---
The Spotted Lanternfly (Lycorma delicatula)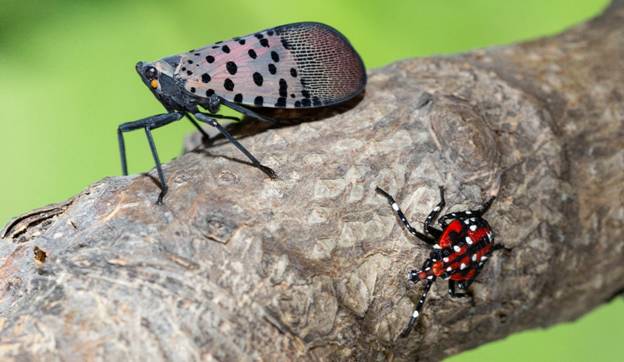 The spotted lanternfly (Lycorma delicatula) is an invasive planthopper currently spreading through the Mid-Atlantic and Eastern US. Although the spotted lanternfly is not currently found in Rhode Island, but has been seen in Western Connecticut. Potential spread of this insect threatens our region's grape, tree fruit, hardwood, and green industries. Please click the photo above to go to the URI Dept. of Plant Sciences and Entomology Spotted Lanternfly page for more information.
Free Soil Testing for Landowners!
RI State Conservation Committee (RISCC) has a soil health agreement with NRCS by which they do free soil testing for landowners. The program is absolutely free, and after the results are back, the appropriate conservation district will work with the landowner on programs he/she may want to implement based on results. Please see the attachment below for more information.
HOW CAN MY FARM'S SOIL HEALTH BE EVALUATED?
Have a Comprehensive Soil Health Assessment conducted on your cropland, hayland or pasture. This Regional Conservation Partnership Program (RCPP) for enhancing Soil Health provides access to Cornell University's Comprehensive Assessment of Soil Health when you apply for technical assistance. The Conservation District Soil Health staff will collect soil samples fr m your property, send the samples to Cornell Soil Health Testing Lab and interpret those results in a Soil Health Management Plan.
---
Ford $500 Bonus Cash!
Rhode Island Farm Bureau (RIFB) is pleased to announce the newest member benefit. Farm Bureau members in Rhode Island can now receive a $500 Bonus Cash offer from Ford Motor Company on a purchase or lease of a new qualifying vehicle. Please click here for more information.
---
Take a Stand for Clean Water and Clear Rules
EPA has proposed a revised definition of "waters of the United States," which would clarify regulatory authority under the Clean Water Act. You would not need a lawyer or consultant to know what is, and what is not, regulated.
Farmers know best when it comes to enhancing the environment they rely on. Good farming and a good environment go hand in hand! That's why we need both clean water and clear rules.
Farmers and ranchers care about clean water and work hard to protect our natural resources. As farmers and ranchers continue to reduce the environmental footprint of farming and ranching, they need a new common-sense water rule that protects water quality and gives them clear rules they can follow.
Click here to learn more about the new Clean Water Rule.
Click here to go to American Farm Bureau's page about the Clean Water Rule. You can send a comment to the EPA, and if you do, please edit the text to make it your story. Personal stories make the most impact.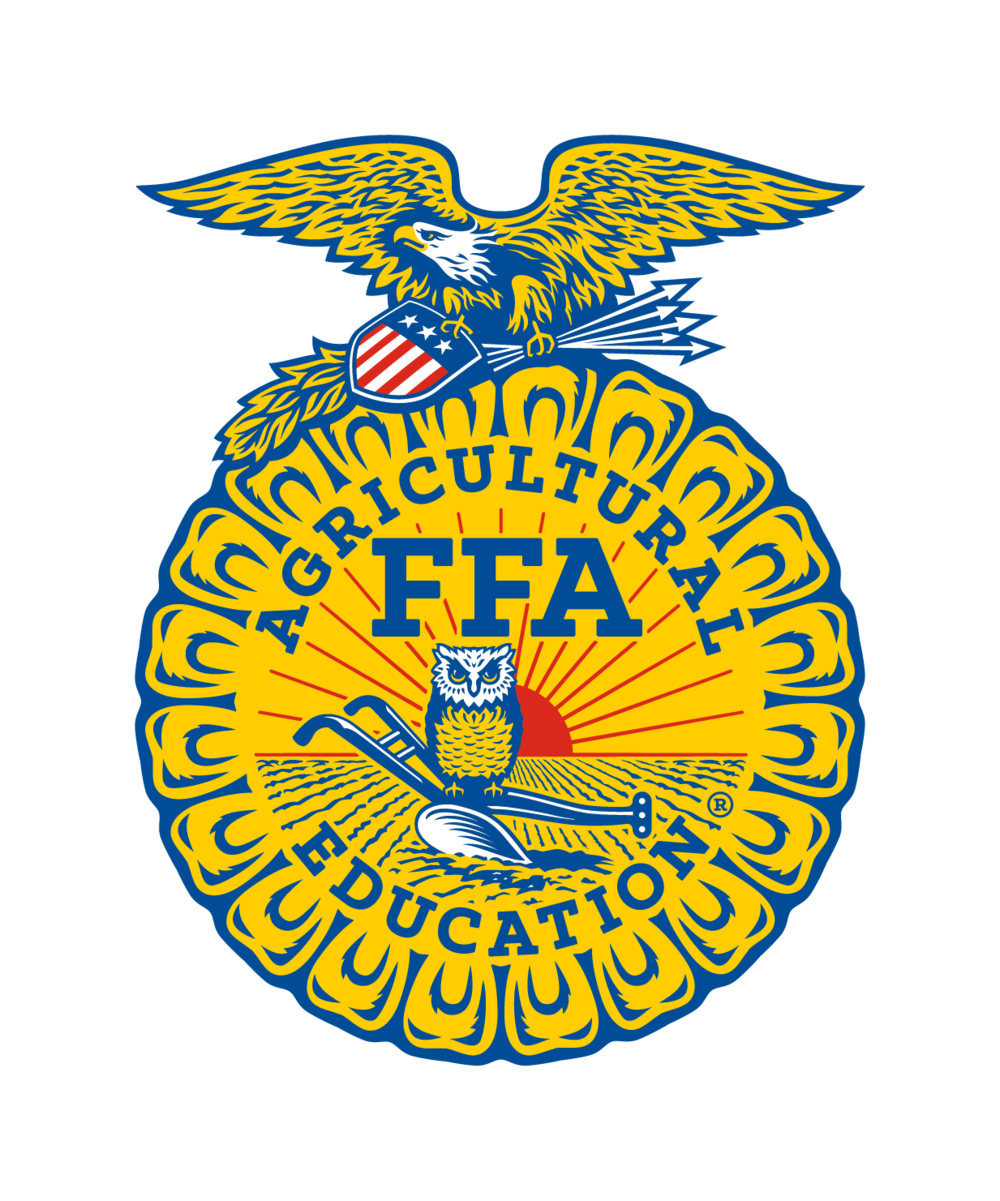 Langevin Bill to Support Agriculture Education Signed into Law
Legislation updates the FFA (formerly Future Farmers of America) charter to enable the organization to better serve its 669,000 student members.

WASHINGTON –President Trump has signed into law bipartisan legislation to modernize the charter of the National FFA Organization. The National FFA Organization's Federal Charter Amendments Act was led by Congressional Career and Technical Education Caucus (CTE) co-chairs Congressmen Jim Langevin (D-RI) and Glenn 'GT' Thompson (R-PA) in the House, and Senator Todd Young (R-IN) in the Senate.
"FFA has long been instrumental in preparing future generations of agricultural leaders in Rhode Island and in communities throughout the nation," said Langevin. "I have seen the impact of education on the agriculture sector through interactions with my Food First Advisory Committee, and I have also seen the impact of the agriculture sector on our state's economy. The updates in this bill will provide FFA with the tools to continue its important mission and better equip its student members for 21st Century careers. This bill reflects broad bipartisan consensus on the importance of FFA to the larger career and technical education landscape. I thank my colleagues from across the aisle, Congressman Thompson and Senator Young, for working with me to ensure a successful future for FFA."
FFA is a federally-charted, non-profit organization that partners with the U.S. Departments of Education and Agriculture. Currently, FFA is the only organization with a federal charter required to have the majority of its board members selected by a partner government agency. The National FFA Organization's Federal Charter Amendments Act grants FFA increased independence over the selection of its board to better reflect the diverse stakeholders in the organization while still maintaining the critical federal partnerships.
"High school students have benefited greatly from FFA's agricultural education and training programs for decades," said Henry B. Wright, President of the Rhode Island Farm Bureau. "I commend Congressman Langevin and his colleagues for making these important updates to FFA that will further strengthen agriculture education for Rhode Islanders and students across the nation."
"This is an important step for the future of FFA. The law now specifically recognizes the integral nature of FFA and agricultural education," said Mark Poeschl, Chief Executive Officer of the National FFA Organization and Foundation. "We're thankful for the support we received and look forward to our student delegates and board members having new opportunities and flexibility to grow our organization."
The National FFA Organization's Federal Charter Amendments Act passed the U.S. House of Representatives on January 22 and the U.S. Senate on February 5. It is the seventh bill to be signed into law this year.
Read the full text of the bill.
2019 Local Agriculture and Seafood Act (LASA) Grants Program
The Rhode Island Department of Environmental Management, Division of Agriculture is accepting grant applications for the Local Agriculture and Seafood Act Grant Program. The goal of the program, which was established by the Local Agriculture and Seafood Act (LASA) of 2012, is to support the growth, development, and marketing of local food and seafood in Rhode Island. It is made possible by $120,000 in funding from the State of Rhode Island. The total amount available for awards this year is significantly lower than in previous years due to the loss of private foundation funding. The number of projects funded will likely be smaller. Please plan a focused and efficient application. Deadline for submissions is Friday, March 8. For more information and an application click here.

2019 Specialty Crop Block Grant Program
The RIDEM/Division of Agriculture is pleased to announce the award of $276,614 in Farm Viability grant funds for the purpose of enhancing the Competitiveness of Specialty Crops grown in Rhode Island.
Specialty crops are defined by this federally supported program as fruits and vegetables, dried fruit, tree nuts, and nursery crops including floriculture such as Christmas Trees, cut flowers, honey, hops, and turf grass production. Examples of enhancing the market competitiveness of specialty crops include, but are not limited to: Research, promotion, marketing, nutrition, trade enhancement, food safety, food security, plant health programs, education, "buy local" programs, increased consumption, increased innovation, improved efficiency and reduced costs of distribution systems, environmental concerns and conservation, product development, and developing cooperatives. Applications, accompanied by a W9 form, must be postmarked no later than March 31, 2019. For more information click here.
2018 AFBF Impact Report
impact would not have been possible without the strength of our engaged grassroots advocates, our state Farm Bureau peers, and our industry partners. The signing of the 2018 farm bill was symbolic of the impact we can have when agriculture works together to speak on behalf of U.S. farmers, ranchers and rural Americans.
Farm Bill Signed Thursday, December 20
On December 20, a group of AFBF representatives was invited to the Whitehouse to watch President Donald J. Trump sign the 2018 Farm Bill into law. AFBF President Zippy Duvall released the following comment:
"The Agriculture Improvement Act—H.R. 2—is now law. Enactment means risk management tools, foreign market development and environmental stewardship programs continue to be available, and on terms that reflect a much tougher farm economy than the one we faced when the last farm bill became law.
"The farm bill helps to ensure the food security and economic security of our nation. Directly or indirectly, it benefits everyone in towns large and small. This farm bill:
Brings another five years of certainty to farm and ranch families;
Upholds fiscal responsibility by being budget neutral;
Improves risk management programs;
Protects crop insurance;
Funds much-needed trade development;
Invests in the future with funding for ag research and beginning farmer programs; and
Continues nutrition assistance (three-quarters of total farm bill funding) for lower-income Americans.
"We are grateful to President Trump for his support. We also thank Chairmen Roberts and Conaway and Ranking Members Stabenow and Peterson for producing legislation that passed with strong, bi-partisan support. We look forward to working with Agriculture Secretary Perdue as he and his team at USDA implement this law and put new program provisions in place quickly.
As RIFB renewals are rolling out, remember to keep your membership current to maintain your American National* Insurance discount!
American National offers a full line of insurance products through a local agent. That way they can help you ensure that your property and liability insurance needs are covered. So, whether it's auto, home, life, farm or business insurance, you can feel confident you're getting options to fit your lifestyle and budget.
Your current Rhode Island Farm Bureau membership entitles you to discounts on:
– 5% discount for personal auto
– 3% discount for the SFP, including Country Estate Insurance
– 3% BOP discount up to $100. (Certain classes not eligible for the discount, ask your agent.)
Contact your American National agent to make sure you are getting the best discount.
Not an American National Insurance customer? To find out more about American National Insurance, click the following link to find an agent near you. www.americannational.com.
*Previously know as Farm Family under the American National umbrella.
RI Sales Tax Exemption on Seeds and Plants
Late this spring we had several calls regarding the Sales Tax Exemption on Seeds and Plants. We are happy to say that after considerable work trying to get seeds and plants used to grow food and food ingredients exempted from the state sales tax, the following changes were passed in last year's state budget. State Budget link here. Page 178, lines 11-14.
Here is the much abbreviated, relevant text.
Sales and Use

Taxes

– Liability and Computation
§ 44-18-30. Gross receipts exempt from sales and use

taxes

.
There are exempted from the

taxes

imposed by this chapter the following gross receipts:
(65)

Seeds

and plants used to grow food and food ingredients. From the sale, storage, use, or other consumption in this state of

seeds

and plants used to grow food and food ingredients as defined in § 44-18-7.1(l)(i). "

Seeds

and plants used to grow food and food ingredients" shall not include marijuana

seeds

or plants.

44-18-7.1(l)(i). "Food and food ingredients" means substances, whether in liquid, concentrated, solid, frozen, dried, or dehydrated form, that are sold for ingestion or chewing by humans and are consumed for their taste or nutritional value and

seeds

and plants used to grow food and food ingredients. "Food and food ingredients" does not include "alcoholic beverages", "tobacco", "candy", "dietary supplements", "soft drinks", or "marijuana

seeds

or plants."
THE PURPOSE OF THE RI FARM BUREAU
The Rhode Island Farm Bureau is an independent, non-governmental, voluntary organization of farm and ranch families united for the purpose of analyzing their problems and formulating action to achieve advancement and, thereby, to promote the national well-being.
Farm Bureau is local, county, state, national, and international in its scope and influence and is non-partisan, non-sectarian and non-secret in character. Farm Bureau is the voice of agricultural producers at all levels.
Statement from 1997 Policy Manual of the American Farm Bureau Federation.
Support Rhode Island Farms by joining the Rhode Island Farm Bureau.
Your Membership in RIFB entitles you to …
A complete line of insurance services through the Farm Family Insurance Companies
Discounts available on Automobile, Special Farm Packages (inc. Country Estate) & BOP
Discounts on Case IH, CAT, Dungarees.com, Grainger and John Deere
Discount on prescription lenses and frames through Coast to Coast Vision Plan
Discount at participating Choice hotels and Wyndham hotels
Discounts from Avis and Budget.
Thousands of additional discounts when you use your membership number and log into Access Benefits.
Click here to learn more about RIFB membership benefits.