Please join us on Thursday, November 16 to celebrate 70 years of Farm Bureau in Rhode Island!  American Farm Bureau President Zippy Duvall will be our guest.
This year our Annual Meeting returns to Crystal Lake Golf Club in Mapleville, RI. Registration opens at 10:00 am, and workshops begin at 10:30 am with events continuing throughout the day.
This year's 10:30 a.m. workshop will be a Risk Management for Your Ag Operation:  How to Save on Insurance and Cover Your Assets featuring RI State Veterinarian, Scott Marshall, DVM: attorney and RIFB member, Mark Tourgee; and American National-Farm Family agents Ashley Johnson and Michele Rosa.  
This year the incredibly popular chef's demonstration featuring Executive Chef Andy Teixeira of Newport Vineyards has been moved to lunch!   Blackbird Farms will again sponsor this popular workshop.  Chef Andy's demos have been a hit each year, and we are prepared to be amazed again!  Our iconic Ice Cream Social will follow lunch.
Our 2:00 p.m. workshop features  AFBF Economist Danny Munch. Danny will provide updates on issues including dairy markets, transportation & infrastructure, disaster assistance, aquaculture, endangered and invasive species, public lands, and specialty crop markets.  A native of East Lyme, Connecticut, Danny was an active 4-H member and heavily involved with Northeast agriculture. He graduated from UConn in 2018 with a double major in Livestock Management & Policy and Resource Economics.  Danny's ties to our region make him an ideal speaker at our Annual Meeting. 
Our Business Meeting begins at 4:00 pm, Social Hour at 5:30 pm and the Dinner Buffet at 6:30 pm.
American Farm, Bureau President, Zippy Duvall, will be our evening speaker. Zippy Duvall has served as president of the American Farm Bureau Federation since 2016. He is a third-generation farmer from Georgia. He and his son operate a beef cow herd, raise broiler chickens, and grow their own hay, all while continuing to restore the farmland that has been in the family for more than 90 years.


---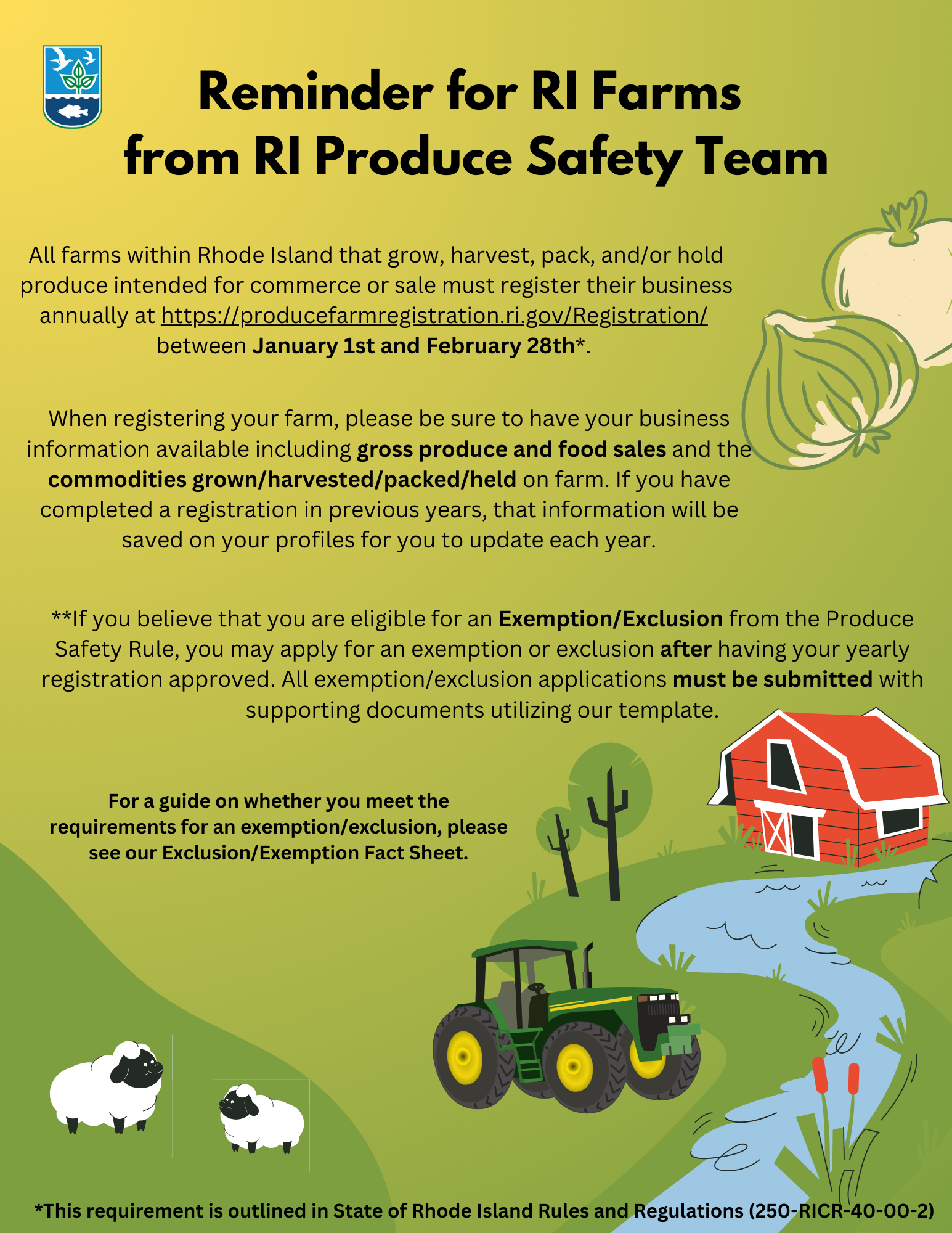 ---
Current News, Program Updates and Deadlines for the
USDA Farm Service Agency
Upcoming FSA Program Signup Deadlines
November 2023
December 2023
January 2024
Agency News
USDA's Conservation Reserve Program Pays More Than $1.77 Billion to America's Producers in Support of Conservation and Climate-Smart Agriculture

 

The U.S. Department of Agriculture (USDA) has issued more than $1.77 billion this year to agricultural producers and landowners through its Conservation Reserve Program (CRP), a critical piece of the Department's efforts to support climate-smart agriculture and forestry on working lands. Right now, CRP's more than 667,000 participants received payments from USDA's Farm Service Agency (FSA) for their voluntary conservation efforts on more than 23 million acres of private land. Since 2021, CRP has grown by 21 percent in terms of acres enrolled, testament to the Biden-Harris administration's program improvement efforts.
Dairy Margin Coverage Program Provides Critical Support for Dairy Operations 

The August milk margin triggered the eighth consecutive payment for dairy producers who obtained Dairy Margin Coverage (DMC) for the 2023 program year. August's income over feed margin is $6.46 per hundredweight (cwt.) with projected DMC payments totaling $120 million. To date, including the projected August payments, dairy producers have received more than $1.2 billion in much needed economic support for 2023 and margin forecasts indicate the likelihood of more to come before the end of the calendar year.

USDA Announces October 2023 Lending Rates for Agricultural Producers 

The U.S. Department of Agriculture (USDA) announced loan interest rates for October 2023, which are effective Oct. 2, 2023. USDA's Farm Service Agency (FSA) loans provide important access to capital to help agricultural producers start or expand their farming operation, purchase equipment and storage structures or meet cash flow needs. 
Disaster Assistance Programs Available
The U.S. Department of Agriculture (USDA) offers technical and financial assistance to help farmers who might be impacted by Natural Disasters. Rhode Island Farm Service Agency (FSA), Natural Resource Conservation Services (NRCS), and Risk Management Agency offers several programs that may be able to help producers depending on the type of damage. Additional information can be found within our handy 

Disaster Assistance at a Glance brochure 

or at the

 RI FSA Homepage, RI NRCS Homepage

,

or the

 RI RMA Homepage.
Please feel free to distribute this information as you see fit.  For more information regarding the latest FSA news and programs, please visit farmers.gov and the RI FSA Homepage.  For questions, feel free to reach out to me or contact the Rhode Island Farm Service Agency County Office located at 60 Quaker Lane Suite 49, Warwick RI at 401-828-3120 Option 1.  For Farm Loan questions, please contact our Farm Loan team at 401-828-3120 Option 2.
Thank you,
Leila Naylor
Administrative Specialist
USDA-Farm Service Agency
60 Quaker Lane Suite 62
Warwick, RI 02886
Leila.naylor@usda.gov
---
The Local Agriculture and Seafood Act Grant Application is OPEN.
The RIDEM Division of Agriculture will award up to $650,000 in grant awards this round. The maximum grant award available to a farmer, individual, business (e.g., LLC) or non-profit organization is $20,000. Overhead and/or administrative costs are limited to 10% of total budget proposal.
The LASA grant program supports Agriculture, Fisheries, Aquaculture and Forestry industries by investing in Rhode Island's small and beginning farms. The goal is to support the growth, development, and marketing of local food and seafood in Rhode Island.
2024 Funding Priorities
The LASA Advisory Committee sets priorities each grant year and makes recommendations to the Director of the RIDEM. Applicants are required to fulfill at least one (not all) of the funding priorities listed below.
Support the entry, growth, and/or sustainability of Socially Disadvantaged, Beginning, Small, Women, and veteran agriculture and aquaculture producers and fishers

Support the development of new marketing, promotion, sales, and/or distribution channels, including connecting local farms and fishers with Rhode Island's food insecure communities.

Support the development of new products, including value added processing capacity.

Foster new cooperatives, partnerships, and/or collaborations among Rhode Island agriculture and aquaculture producers, and fishers and supporting organizations.

Protect the future availability of agricultural land for producers, including farm transition planning and implementation.

Assist with on farm Food Safety improvements including FSMA and HACCP Compliance
Applications due: November 30, 2022 at 11:59 PM
Awards announced: March 2024
The RI Food Policy Council is once again able to offer free and confidential technical assistance, supported by a grant from RI DEM – Division of Agriculture.  
Helpful Links – Here's a link to our website where you can learn more and check out last year's recorded webinar.  
---
Rhode Island 2023 Crop Loss Survey
With the help of URI's CES and the USDA, FSA office, we are hoping to hear from you through this on-line, short survey RI 2023 Crop loss survey (or a call to the RI Farm Service Agency's County Office at 401-828-3120 Option 1).
If you produce agricultural crops (including nursery stock) in Rhode Island and you experienced crop losses due to the February 3-4 deep freeze, the May 18th frost, or flooding in July 2023, please let us know.
This data will help document the extent of crop losses and will inform the public and decision-makers who may be considering actions that would provide emergency funds to Rhode Island producers beyond insurance payments and USDA programs. Producers should also report losses to the RI FSA County Office at 401-828-3120 Option 1.
This survey is being conducted by URI Extension and results will be shared with our partners at FSA and DEM. Please fill out this survey even if you have already reported losses to FSA or to your crop insurance agent. If you have questions about this survey please contact Heather Faubert, hfaubert@uri.edu
Again, click on the following link RI 2023 Crop loss survey to complete the survey.
If any of you have any additional questions, please don't hesitate to contact me, Leila Naylor, at Leila.naylor@usda.gov.
---
2023 Rhode Island Farm Scavenger Hunt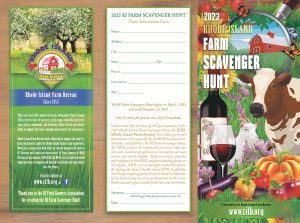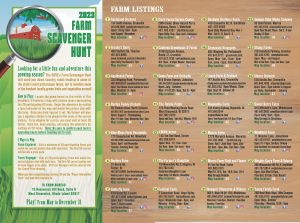 The 2023 RI Farm Scavenger Hunt are out!   You can pick up a flier at a participating farm (click the picture above to see the list) or stop by the Farm Bureau Office to grab one. There is a green box full of them beside our door at 16 Nooseneck Hill Road in West Greenwich. **Please note, due to the delay, Stamp Farms was closed for the 2023 season when we distributed. A completed hunt would include ALL the other farms.**
You may select a farm to pick up your 2023 flier from one of the farms shown on the list above, or stop to get one at the RI Farm Bureau office.  We apologize sincerely for the production delay which was out of our control.  We now have local production and fully anticipate the 2024 Scavenger Hunt fliers will be available May 1, 2024!
Please contact Heidi at rifarm@rifb.org if you wish to have your farm on the 2024 RI Farm Scavenger Hunt.
Check out this nice article in Hey Rhody magazine on our RI Farm Scavenger Hunt!
---
Spotted Lanternfly Detected in RI In August 2023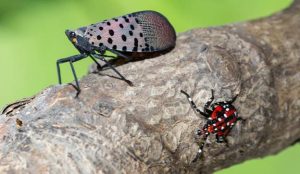 It looks so pretty, but it's actually the very damaging Spotted lanternfly adult (left) and fourth instar nymph (right). Photo credit: USDA APHIS.
The spotted lanternfly (Lycorma delicatula) is an invasive planthopper currently spreading through the Mid-Atlantic and Eastern US.  On August 9, the Rhode Island Department of Environmental Management says it sprayed pesticides along the Route 7 corridor in several communities to fight an infestation of the spotted lanternfly.
The department says it sprayed along Douglas Pike, or Route 7, in Smithfield, Lincoln, and North Providence.
The potential spread of this insect threatens our region's grape, tree fruit, hardwood, and green industries. Please click the photo above to go to the RI DEM Division of Agriculture Spotted Lanternfly page for more information.
DEM said if you come across a suspected spotted lanternfly, especially in the North Providence, Smithfield and Lincoln area, they ask you to take a photo , kill the insect, collect a specimen and report it on their designated form.
---
Highly Pathogenic Avian Influenza 2022-2023 Outbreak
On Friday, October 21, 2022, the state Department of Environmental Management euthanized a small, backyard flock of chickens, ducks, geese and turkeys on a farm in Newport County, Rhode Island, after confirming that some had been infected with HPAI.  This is the first confirmation of the HPAI  virus in a domestic flock in Rhode Island, and is currently the only detection from this current outbreak.  In July 2022, a great black-backed gull found seriously ill on a South Kingstown beach tested positive for HPAI. Since then, there have been a total of 11 wild bird detections in Rhode Island, the most recent in March 2023.
Through October 20, 2023, USDA has announced more than detections in 335 commercial and 524 backyard flocks across 47 states, with a total of over 59 million birds affected (number of birds on confirmed affected premises).  In addition there have been 7,355 detections in wild birds across 49 states. (Only Hawaii has remained unaffected from either domestic or wild bird detection.)  For up-to-date information, please visit the USDA APHIS site: https://www.aphis.usda.gov/aphis/ourfocus/animalhealth/animal-disease-information/avian/avian-influenza/hpai-2022.
For some very detailed information about this outbreak, particularly vs the 2014/15 HPAI Outbreak, visit AFBF's Market Intel "Breaking Down the HPAI Outbreak"
The following February 22, 2022 update is from Dr. Scott Marshall, RI State Veterinarian.
State and federal animal health officials are monitoring for Highly Pathogenic Avian Influenza (HPAI). HPAI is a virus that is relatively common in wild waterfowl and is well-adapted in that population in that it rarely causes disease. However, when domestic poultry are infected with HPAI it can result in mortality rates approaching 100%. HPAI has been detected in hunter harvested wild waterfowl along the East Coast from Canada to FL. Canada had experienced some infections of domestic poultry but the USA did not until about 2 weeks ago when a turkey farm in Indiana was diagnosed. Since then there have been an additional 3 commercial poultry farms in IN, 2 commercial farms in KY, and backyard farms in VA, NY, and ME. The findings in NY and ME came in over the weekend with the NY finding being fairly close to RI on Long Island.
I have been the State Veterinarian for 15 years and we have always prepared for HPAI. In my tenure there has been one major HPAI outbreak (2015-2016) primarily in the upper Midwest and one relatively small one in 2022 in the Southern USA. Those were quite distant from RI and the monitoring of wild birds for HPAI with those outbreaks didn't show that we were high risk. This is different because of the proximity of HPAI detections in both wild and domestic birds in the Northeast. If there is a silver lining with this virus it appears that it is not a threat to public health. Public health officials have long predicted that the "next great pandemic" would be an influenza virus, probably avian origin. Well, we all know how that went 2+ years into COVID. That said, CDC and USDA are monitoring the virus for any characteristics that would make it likely to infect people, and thus far they are not seeing any.
The purpose of this email is really twofold. First is for your situational awareness as agriculture partners and stakeholders. Second is that you personally, or your organizations, may provide services to poultry farms. Therefore I ask that you please review this site for important information on the current HPAI outbreak, and also for information on biosecurity. The biosecurity information includes practices that you all should be taking so that you don't spread HPAI if you visit poultry farms, and also information you can pass onto your customer/client so they can protect their poultry assets.  USDA Defend the Flock Program 
As always, please don't hesitate to reach out if you have any questions.
Scott N. Marshall, DVM
Deputy Chief / RI State Veterinarian
Division of Agriculture and Forest Environment
Tel: (401) 222- 2781 Ext 2774503
Rhode Island Department of Environmental Management
235 Promenade Street | Room 370 | Providence, RI 02908
The virus is spread primarily through fecal droppings and respiratory droplets and can contaminate feed or water sources that wild birds have access to.
RI DEM asks that you contact the State Veterinarian, Scott Marshall, DVM, if your flock is having any illness or mortality event. You can reach him via email at scott.marshall@dem.ri.gov or by calling 401-222-2781 X2774503.
---
Preventing Diseases Spread by Livestock and Backyard Flocks
With the official start of spring, the Rhode Island Department of Health (RIDOH) and the Rhode Island Department of Environmental Management (DEM) would like to remind retailers and consumers to take steps to protect your health from diseases, such as salmonella, that can be passed from livestock and backyard livestock flocks to humans.
Backyard poultry can carry germs that can make people sick even if they look clean and healthy. You can take these simple steps to prevent getting sick:
Please follow these steps to protect yourself:
Wash hands with soap and water right after touching livestock, flocks, and flock supplies
Don't kiss or snuggle the birds
Keep flock and flock supplies outside the house
Never eat, drink, or put anything in your mouth around animals.
Older adults, pregnant women, and young children should be extra careful around animals.
Below are some fact sheets and infographics from the Centers for Disease Control and Prevention (CDC) on this topic. To help keep people safe, we would appreciate it if you would share with your customers by posting them or making them available at your store or considering posting them on social media:
Thank you for your cooperation and assistance in keeping Rhode Islanders healthy and safe. To learn more, please visit this website: Backyard Poultry | Healthy Pets, Healthy People | CDC.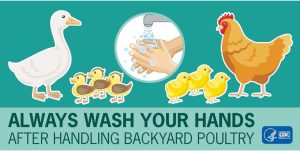 ---
GAP Certified Producers

Along with implementing food safety practices, farms covered by the Produce Safety Rule and/or involved with the RI GAP program (Good Agricultural Practices) will need to keep some records. Visit URI's new webpage [uri.edu] to access free templates designed to assist Rhode Island produce growers with record requirements and/or for farms wanting to make food safety a priority.
---
RI GAP Certification
Thinking of becoming a RI GAP Certified Grower?
Want to learn more about Produce Safety in Rhode Island?
The first step is to take the RI GAP/Produce Safety Rule Grower Training.  
Sign-up for the RI GAP/PSR training waitlist by clicking this link and you will be notified once dates become available!
---
RI Produce Farm Registration
Do you grow, harvest, pack or hold produce?
Have you registered your produce farm for 2023?
All Produce Farms in Rhode Island are now required to register annually with the RIDEM Division of Agriculture.
Registration can be completed easily on the
DEM website

.
Northeast Dairy Business Innovation Center 
NEW 

Northeast Dairy Business Innovation Center website!
Click this link to go to our Grants page for more.
---
For the most complete and  up-to-date disaster information on our website, go to our Emergency Resources page.
---
(Click Link Above)
---
Reminder for farmers about sales tax obligations

Those who make retail sales of taxable items must collect and remit tax
We received this notice from the Rhode Island Department of Revenue Division of Taxation in early June.  It is a reminder that farms that make retail sales of taxable items must collect and remit Rhode Island sales tax on those items.
Please see the linked notice here.
---
SBA EIDL Loans Have Been Fraudulently




Taken out in Others' Names
The RI Farm Bureau has had a number of farms reach out to let us know that SBA (Small Business Administration) Economic Injury Disaster Loans have been taken out, fraudulently, in their farm's name. Fraudulent loans have ranged from $17,600 to $150,000.
Many farms and small businesses have taken out legitimate loans. The loan search in the below Target 12 segment and article does NOT distinguish between legitimate and fraudulent loans. It is simply a tool for you to see if any loans were taken out for your address. Only the amount and street address are listed. Find the address box near the middle of the linked WPRI 12 article below.
Have you had a fraudulent loan taken out in your farm's name?
If so, please contact us at rifarm@rifb.org so that we can keep track of affected farms.
The SBA has provided the following information to assist
those who have been victims of SBA Fraud.
SBA COVID-19 Economic Injury Disaster Loan and Identity Theft Letter
For SBA to commence with the process to release the loan debt as expeditiously as possible, they require the following documents noted in the above linked letter.  The information may be emailed or faxed using the information in the letter :
1. A copy of an Identity Theft Report filed with the Federal Trade Commission (FTC) at IdentityTheft.gov, or filed with another federal law enforcement agency or your local police department.
2. A copy of your photo identification issued by a Federal or state agency. Examples are a Driver's License, state ID card, U.S. Passport, or military ID.
3. A completed and signed Declaration of Identity Theft (below).
United States Small Business Administration Declaration of Identity Theft
In addition, we recommend that you:
1) Go to one of the three credit reporting agencies:
EQUIFAX, www.equifax.com, 1-888-766-0008
EXPERIAN, www.experian.com, 1-888-397-3742
TRANS UNION, www.transunion.com, 1-800-680-7289
-Put a fraud alert on your credit and freeze your credit report. You only need to do this with one agency. They are required to share it with the other two.
-You can review your credit report. Make note of any account or transaction you don't recognize.
2) Keep copies of any emails or mailings you receive regarding this or any other loan, even if you did not apply for one.
3) Contact RI Farm Bureau at rifarm@rifb.org or call us at 401-385-3339 if you have any questions or want to have us add you to the list. Please watch for additional emails, information on the website, or on our Facebook page regarding this.
Target 12 extrapolated a list of every Rhode Island borrower that supposedly participated in the program after the agency was legally compelled to release the information earlier this month. The data shows nearly $562 million was approved for at least 10,000 borrowers with Rhode Island addresses. That's equivalent to more than 10% of the state's small businesses, or outfits with fewer than 500 employees, as defined by the SBA. (The list doesn't include the thousands of loans made through the bridge-loan program known as "Economic Injury Disaster Loans Advance," which were capped at $10,000 each.)
See the updated, January 12, 2021 article below.
__________________________________
---
Unemployment Fraud
In addition to the above noted SBA Fraud, fraudulent UI claims have been made in many people's name, including here at RIFB.  If you did not file an unemployment claim, but received notice that one was filed in your name, report it to the RI State Police using this link.  You may also Google RI DLT to access the link through the actual Unemployment site.
The following is a form distributed by RI DLT to help guide those who have been affected in protecting their credit and identity. 
DLT Action Steps UI Fraud

---
The 
USDA Farmers Guide to Farm Bill
programs contains comprehensive information about all NRCS, FSA and RMA programs.  Click the picture below for details or call any of the offices below for program information.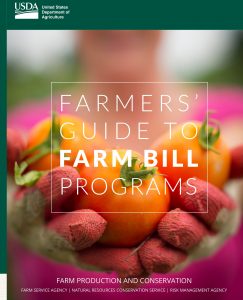 ---
Rhode Island farmers: you can open a new market for your business while helping your less fortunate neighbors during the COVID-19 crisis. Learn how to apply to be an authorized retailer to accept SNAP (Supplemental Nutrition Assistance Program — formerly Food Stamp Program) benefits. This will allow you to accept SNAP benefits at your retail farm stand, CSA, and through home delivery. Click here for the Guidebook.
---
Soil Nutrient Analysis
It's planting season and with that comes the question: Where can I get my soil tested.  At this time we recommend Midwest Labs in Kansas.
---
RIDEM Division of Agriculture & Forest Environment
Seasonal Position Postings
SEASONAL PLANT HEALTH SUPPORT INTERN–Nursery Inspection, Cooperative Agricultural Pest Survey, Organic Certification.

These positions in the Plant Industry/Plant Health Section of the RIDEM Division of Agriculture and Forestry include conducting inspection of nursery stock to determine presence of plant pests for certification of nurseries, surveying and inspecting for detection of exotic, invasive agricultural pests, assisting the organic certification program which certifies organic crops and livestock producers, and other related duties including assisting other programs in the Division as needed.
https://www.governmentjobs.com/careers/rhodeisland/jobs/3878902/seasonal-plant-health-support-intern
SEASONAL AGRICULTURAL MARKETING SUPPORT INTERN
https://www.governmentjobs.com/careers/rhodeisland/jobs/3866331/seasonal-agricultural-marketing-support-intern
SEASONAL AGRICULTURE HEALTH AND SAFETY INTERN
Seasonal Health and Safety Interns conduct statewide surveillance for mosquito-borne diseases. This program is based at East Farm, URI. Interns may assist, as needed, with other programs in the Agric. and Forestry Div. Contact Al Gettman 640-4504
https://www.governmentjobs.com/careers/rhodeisland/jobs/3865853/seasonal-agriculture-health-and-safety-intern
---
---
Free Soil Testing for Landowners!
RI State Conservation Committee (RISCC) has a soil health agreement with NRCS by which they do free soil testing for landowners. The program is absolutely free, and after the results are back, the appropriate conservation district will work with the landowner on programs he/she may want to implement based on results. Please see the attachment below for more information.
HOW CAN MY FARM'S SOIL HEALTH BE EVALUATED?
Have a Comprehensive Soil Health Assessment conducted on your cropland, hayland or pasture. This Regional Conservation Partnership Program (RCPP) for enhancing Soil Health provides access to Cornell University's Comprehensive Assessment of Soil Health when you apply for technical assistance. The Conservation District Soil Health staff will collect soil samples fr m your property, send the samples to Cornell Soil Health Testing Lab and interpret those results in a Soil Health Management Plan.
---
Ford $500 Bonus Cash!
Rhode Island Farm Bureau (RIFB) is pleased to announce the newest member benefit. Farm Bureau members in Rhode Island can now receive a $500 Bonus Cash offer from Ford Motor Company on a purchase or lease of a new qualifying vehicle. Please click here for more information. Click here to print your certificate.
---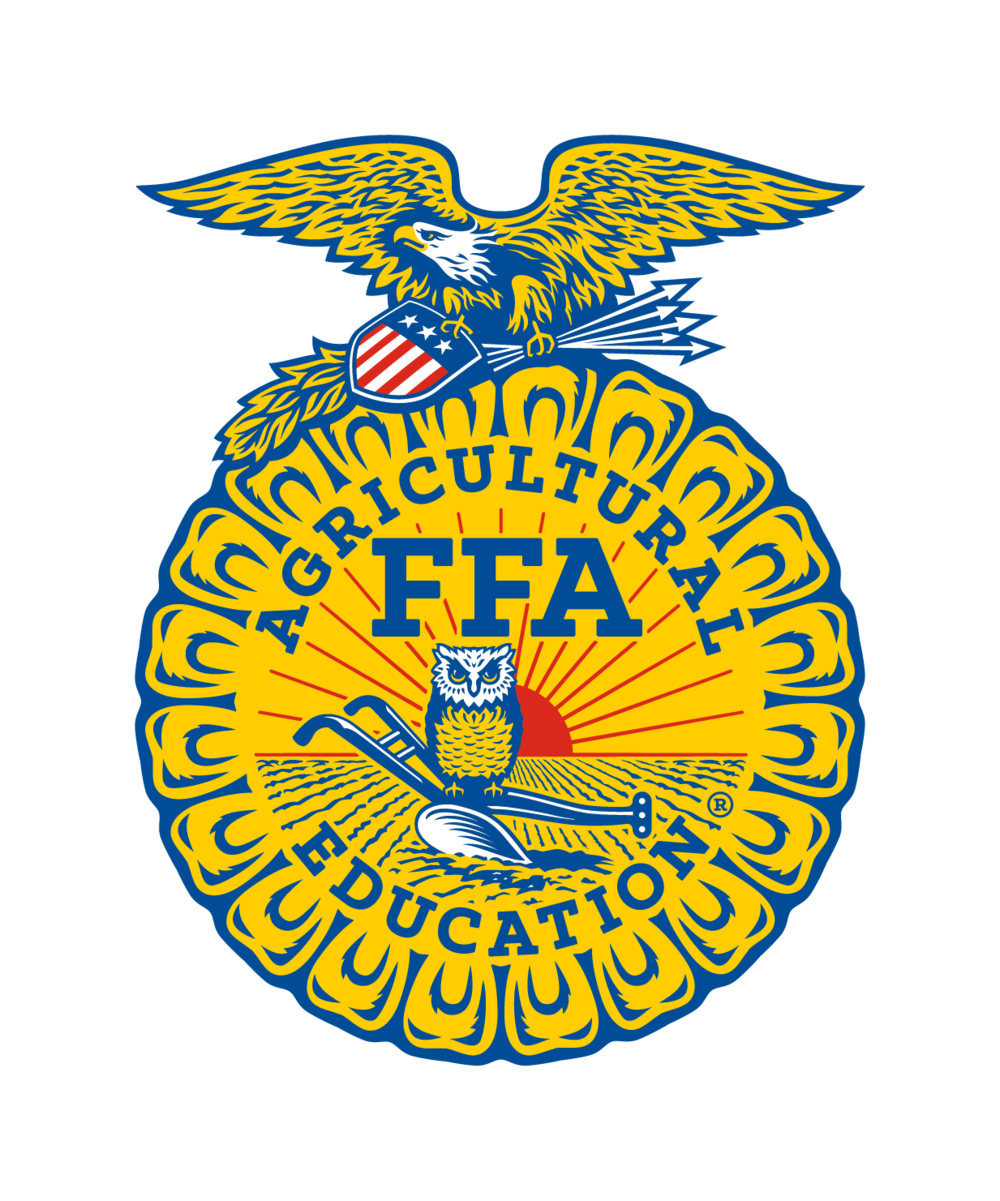 Langevin Bill to Support Agriculture Education Signed into Law
Legislation updates the FFA (formerly Future Farmers of America) charter to enable the organization to better serve its 669,000 student members.

WASHINGTON –President Trump has signed into law bipartisan legislation to modernize the charter of the National FFA Organization. The National FFA Organization's Federal Charter Amendments Act was led by Congressional Career and Technical Education Caucus (CTE) co-chairs Congressmen Jim Langevin (D-RI) and Glenn 'GT' Thompson (R-PA) in the House, and Senator Todd Young (R-IN) in the Senate.
"FFA has long been instrumental in preparing future generations of agricultural leaders in Rhode Island and in communities throughout the nation," said Langevin. "I have seen the impact of education on the agriculture sector through interactions with my Food First Advisory Committee, and I have also seen the impact of the agriculture sector on our state's economy. The updates in this bill will provide FFA with the tools to continue its important mission and better equip its student members for 21st Century careers. This bill reflects broad bipartisan consensus on the importance of FFA to the larger career and technical education landscape. I thank my colleagues from across the aisle, Congressman Thompson and Senator Young, for working with me to ensure a successful future for FFA."
FFA is a federally-charted, non-profit organization that partners with the U.S. Departments of Education and Agriculture. Currently, FFA is the only organization with a federal charter required to have the majority of its board members selected by a partner government agency. The National FFA Organization's Federal Charter Amendments Act grants FFA increased independence over the selection of its board to better reflect the diverse stakeholders in the organization while still maintaining the critical federal partnerships.
"High school students have benefited greatly from FFA's agricultural education and training programs for decades," said Henry B. Wright, President of the Rhode Island Farm Bureau. "I commend Congressman Langevin and his colleagues for making these important updates to FFA that will further strengthen agriculture education for Rhode Islanders and students across the nation."
"This is an important step for the future of FFA. The law now specifically recognizes the integral nature of FFA and agricultural education," said Mark Poeschl, Chief Executive Officer of the National FFA Organization and Foundation. "We're thankful for the support we received and look forward to our student delegates and board members having new opportunities and flexibility to grow our organization."
The National FFA Organization's Federal Charter Amendments Act passed the U.S. House of Representatives on January 22 and the U.S. Senate on February 5. It is the seventh bill to be signed into law this year.
Read the full text of the bill.
---
As RIFB renewals are rolling out, remember to keep your membership current to maintain your American National* Insurance discount!
American National offers a full line of insurance products through a local agent. That way they can help you ensure that your property and liability insurance needs are covered. So, whether it's auto, home, life, farm or business insurance, you can feel confident you're getting options to fit your lifestyle and budget.
Your current Rhode Island Farm Bureau membership entitles you to discounts on:
– 5% discount for personal auto
– 3% discount for the SFP, including Country Estate Insurance
– 3% BOP discount up to $100. (Certain classes not eligible for the discount, ask your agent.)
Contact your American National agent to make sure you are getting the best discount.
Not an American National Insurance customer? To find out more about American National Insurance, click the following link to find an agent near you. www.americannational.com.
*Previously know as Farm Family under the American National umbrella.
---
RI Sales Tax Exemption on Seeds and Plants
Late this spring we had several calls regarding the Sales Tax Exemption on Seeds and Plants. We are happy to say that after considerable work trying to get seeds and plants used to grow food and food ingredients exempted from the state sales tax, the following changes were passed in last year's state budget. State Budget link here. Page 178, lines 11-14.
Here is the much abbreviated, relevant text.
Sales and Use

Taxes

– Liability and Computation
§ 44-18-30. Gross receipts exempt from sales and use

taxes

.
There are exempted from the

taxes

imposed by this chapter the following gross receipts:
(65)

Seeds

and plants used to grow food and food ingredients. From the sale, storage, use, or other consumption in this state of

seeds

and plants used to grow food and food ingredients as defined in § 44-18-7.1(l)(i). "

Seeds

and plants used to grow food and food ingredients" shall not include marijuana

seeds

or plants.

44-18-7.1(l)(i). "Food and food ingredients" means substances, whether in liquid, concentrated, solid, frozen, dried, or dehydrated form, that are sold for ingestion or chewing by humans and are consumed for their taste or nutritional value and

seeds

and plants used to grow food and food ingredients. "Food and food ingredients" does not include "alcoholic beverages", "tobacco", "candy", "dietary supplements", "soft drinks", or "marijuana

seeds

or plants."

---
THE PURPOSE OF THE RI FARM BUREAU
The Rhode Island Farm Bureau is an independent, non-governmental, voluntary organization of farm and ranch families united for the purpose of analyzing their problems and formulating action to achieve advancement and, thereby, to promote the national well-being.
Farm Bureau is local, county, state, national, and international in its scope and influence and is non-partisan, non-sectarian and non-secret in character. Farm Bureau is the voice of agricultural producers at all levels.
Statement from 1997 Policy Manual of the American Farm Bureau Federation.
Support Rhode Island Farms by joining the Rhode Island Farm Bureau.
Your Membership in RIFB entitles you to …
A complete line of insurance services through the Farm Family Insurance Companies
Discounts available on Automobile, Special Farm Packages (inc. Country Estate) & BOP
Discounts on Case IH, CAT, Dungarees.com, Grainger and John Deere
Discount on prescription lenses and frames through Coast to Coast Vision Plan
Discount at participating Choice hotels and Wyndham hotels
Discounts from Avis and Budget.
Thousands of additional discounts when you use your membership number and log into Access Benefits.
Click here to learn more about RIFB membership benefits.