Coronavirus and COVID-19 Resources
Applying for Direct Payments through the Coronavirus Food Assistance Program
Are you a farmer or rancher whose operation has been directly impacted by the coronavirus pandemic?
USDA will begin taking applications for the Coronavirus Food Assistance Program

starting Tuesday, May 26.

USDA Service Centers are open for business by phone appointment only.  You may call your Rhode Island FSA county office at (401) 828-3120 Ext 2. ahead of time to schedule an appointment.  Find more information at farmers.gov/cfap.
Click HERE for more information on how to prepare to apply.
---
Please click here for the message received by RIFB and RINLA on May 8 from Ken Ayars, Chief of RI Division of Ag, in regards to the Phase 1 reopening protocols for greenhouses, garden centers and nurseries.
---
On May 1, 2020, DEM sent additional retail garden center guidance to clarify some questions raised regarding the new Retail Garden Center Guidance (link here) from DEM and DBR which went into effect April 27.  If you have any questions on the guidance, please feel free to email director@rifb.org or call the office at 401-385-3339 and we will help you to get answers.
---
RI DEM has just released guidance for Pick-Your-Own operations during the COVID-19 Pandemic.  Click here.
---
SBA Administrator Jovita Carranza announced that agricultural businesses are now eligible for SBA's Economic Injury Disaster Loan (EIDL) and
EIDL Advance programs.
SBA's EIDL portal  and begin accepting new EIDL applications on a limited basis only, in order to provide unprecedented relief to U.S. agricultural businesses. For agricultural businesses that submitted an EIDL loan application through the streamlined application portal prior to the legislative change, SBA will move forward and process these applications without the need for re-applying.
All other EIDL loan applications that were submitted before the portal stopped accepting new applications on April 15 will be processed on a first-in, first-out basis.
If you are having trouble finding a lender or have questions about the EIDL Program contact RhodeIsland_DO@sba.gov
---
Many businesses are struggling to transform their technology to continue operating during the suppression phase of the COVID-19 pandemic.  RI Commerce Corporation has partnered with Rhode Island tech leaders to offer free coaching sessions to make this transformation easier. If you'd like help, get more information here. There is help available to help people set up a home office, transition to work from home, to get a website or even online ordering set up. Please take a look, they have so much to offer!
---
Click here to learn more about available SBA loan and debt relief options.
Our nation's small businesses are facing an unprecedented economic disruption due to the Coronavirus (COVID-19) outbreak. On Friday, March 27, 2020, the President signed into law the CARES Act, which contains $376 billion in relief for American workers and small businesses.
Additional Funding Notice: The SBA will resume accepting Paycheck Protection Program applications from participating lenders on Monday, April 27, 2020 at 10:30am EDT.
With the additional funding provided by the new COVID-19 relief package, SBA will resume processing EIDL Loan and Advance applications that are already in the queue on a first come, first-served basis.
We will provide further information on the availability of the EIDL portal to receive new applications (including those from agricultural enterprises) as soon as possible.
To learn more about the relief options available for your business, click here.
---
Farm Bureau Bank has been working expeditiously with the Small Business Administration (SBA), to launch the Paycheck Protection Program; we are pleased to share that we are now accepting applications. Unlike most financial institutions we are NOT limiting applications to our existing customers and will be accepting applications from Farm Bureau Members. As I'm sure you have heard, this program is very popular, which is creating backlogs at many financial institutions and some banks, like Wells Fargo, are no longer accepting applications. We are here to help your Members get access to this program if they are unable to be served by their local bank.
For more details, please follow this link to the Paycheck Protection Program information sheet. If you have any questions, please give us a call. We will also be sending this information to the insurance organizations in the states where we work with Farm Bureau insurance companies.
---
Providing information relevant to Northeast Ag and customers of Farm Credit East.  Includes information regarding the Paycheck Protection Plan, CARES Act basics, tax planning , payroll, webinars and reports on COVID-19.
---
Rhode Island farmers: you can open a new market for your business while helping your less fortunate neighbors during the COVID-19 crisis. Learn how to apply to be an authorized retailer to accept SNAP (Supplemental Nutrition Assistance Program — formerly Food Stamp Program) benefits. This will allow you to accept SNAP benefits at your retail farm stand, CSA, and through home delivery. Click here for the Guidebook.
---
COVID-19 and Agricultural Operations in RI as it relates to
non-essential retail business. 
COVID-19 Guidance Update March 29, 2020 Director Coit
Governor Raimondo's Executive-Order-20-14 RE: Closure of Non-Essential Retail Business
---
RI DEM Division of Ag has compiled information from various sources for your reference to help support your business and to protect yourself, employees, and consumers.  Please use the above link.
Farmers Market Guidance is here.  Farmers Markets MAY remain open using this guidance as Governor Raimondo's Executive Order 20-14 includes Farmers Markets as Critical Retail Businesses.
---
At this time, there is no indication farmers are being stopped while performing ag operations across state lines.  However, to be proactive, we are providing the following using the link HERE and from the above title:
Letter for Farms to fill out and carry identifying themselves as critical industry
Letters providing Guidance for Ag operations in all Northeast states.  We advise you carry the letter(s) from any state you are traveling to/through for your farm business.
In addition, please use this link for Interstate Livestock Shipping Requirements
---
Garden centers, retail nurseries, greenhouses: Closure of retail side of business.  Please see above link to RINLA for all details.
---
In addition to traditional SBA funding programs, the CARES Act established several new temporary programs to address the COVID-19 outbreak.
An SBA loan that helps businesses keep their workforce employed during the Coronavirus (COVID-19) crisis.  Farmers can qualify.  Please click the above link.
In response to the Coronavirus (COVID-19) pandemic, small business owners in all U.S. states, Washington D.C., and territories are eligible to apply for an Economic Injury Disaster Loan advance of up to $10,000. This advance will provide economic relief to businesses that are currently experiencing a temporary loss of revenue. Funds will be made available following a successful application. This loan advance will not have to be repaid.
Enables small businesses who currently have a business relationship with an SBA Express Lender to access up to $25,000 quickly.
---
---
The link above provides guidance and identifies workers who conduct a range of operations and services that are essential to continued critical infrastructure viability, including staffing operations centers, maintaining and repairing critical infrastructure, operating call centers, working construction, and performing management functions, among others. The industries they support represent, but are not necessarily limited to, medical and healthcare, telecommunications, information technology systems, defense, food and agriculture, transportation and logistics, energy, water and wastewater, law enforcement, and public works.
Printable letter for official guidance (March 28 update).
---
USDA's Agricultural Marketing Service is prepared to take actions within the Federal Milk Marketing Order (FMMO) to facilitate the disposal of milk or provide flexibility to meet increased retail demand due to changes in supply and demand from COVID-19. Actions will initially be for the time period of March-May, as needed. Any requests should be made to the local Market Administrator.
---
• Beginning immediately, through July 31, 2020, USDA Business and Industry Loan Guarantees (B&I) and Rural Energy for America Program (REAP) Guaranteed lenders may assist borrowers experiencing temporary cash flow issues by deferring payments for a period no longer than 120 days. The lender must notify The Agency in writing of any payment deferments. Written notification to the Agency will meet the standard for concurrence until July 31, 2020. A response from the Agency is not required. This guidance applies to ALL borrowers that had a current repayment status as of March 1, 2020.
• RBCS intermediary borrowers continue to have authority to service loan portfolios independent of USDA. Intermediary borrowers participating in these programs may approve loan payment deferrals may to their borrowers without USDA approval. These programs are:
 Intermediary Relending Program (IRP)
 Rural Business Development Grant (RBDG)
 Rural Economic Development Loan and Grant (REDL and REDG)
 Rural Microentrepreneur Assistance Program (RMAP)
• For existing Intermediary Relending Program (IRP) and Rural Economic Development Loan (REDL) borrowers, the Agency is committed to maintaining well-capitalized intermediary lenders and will work with you on loan servicing requests on a case-by-case basis to make sure you remain a pillar in our rural business communities.
EXTENSION OF APPLICATION DEADLINES
USDA is extending the application window for the following programs:
Rural Business-Cooperative Service
• USDA extended the application deadline for the Rural Business Development Grant (RBDG) program to no later than April 15, 2020.
• USDA extended the application deadline for the Rural Energy for America Program (REAP) to April 15, 2020
---
Reed Outlines Coronavirus Economic Rescue Benefits for Rhode Islanders.
---
Starting April 2
The above link, regarding the following information, is being provided for informational purposes.  RIFB is not equipped to answer questions on the new legislation.
The Wage and Hour Division provides information on common issues employers and employees face when responding to COVID-19, and its effects on wages and hours worked under the Fair Labor Standards Act (FLSA), job-protected leave under the Family and Medical Leave Act (FMLA), and paid sick leave and expanded family and medical leave under the Families First Coronavirus Response Act (FFCRA).
FFCRA will help the United States combat and defeat COVID-19 by giving all American businesses with fewer than 500 employees funds to provide employees with paid leave, either for the employee's own health needs or to care for family members. The legislation will ensure that workers are not forced to choose between their paychecks and the public health measures needed to combat the virus while at the same time reimbursing businesses.
---
On March 20, 2020,  the U.S. Treasury Department, Internal Revenue Service (IRS), and the U.S. Department of Labor (Labor) announced that small and midsize employers can begin taking advantage of two new refundable payroll tax credits, designed to immediately and fully reimburse them, dollar-for-dollar, for the cost of providing Coronavirus-related leave to their employees. This relief to employees and small and midsize businesses is provided under the Families First Coronavirus Response Act (Act), signed by President Trump on March 18, 2020.
The Act will help the United States combat and defeat COVID-19 by giving all American businesses with fewer than 500 employees funds to provide employees with paid leave, either for the employee's own health needs or to care for family members. The legislation will enable employers to keep their workers on their payrolls, while at the same time ensuring that workers are not forced to choose between their paychecks and the public health measures needed to combat the virus.
---
Waiver in Response to the COVID-19 Emergency –
For States, CDL Holders, CLP Holders, and Interstate Drivers Operating Commercial Motor Vehicles
FMCSA grants, until June 30, 2020, a waiver from certain regulations applicable to interstate and intrastate commercial driver's license (CDL) and commercial learner's permit (CLP) holders and to other interstate drivers operating commercial motor vehicles (CMVs). The Agency has initiated this action in response to the President's declaration of a national emergency under 42 U.S.C. § 5191(b) related to Coronavirus Disease 2019 (COVID-19).
---
The U.S. Department of Transportation's Federal Motor Carrier Safety Administration (FMCSA) today released a second FAQ document to provide guidance on its expanded national emergency declaration to provide hours-of-service regulatory relief to commercial vehicle drivers in response to the nationwide coronavirus (COVID-19) outbreak.
---
The U.S. Small Business Administration will offer low-interest federal disaster loans for working capital up to $2 million to Rhode Island small businesses suffering substantial economic injury as a result of COVID-19.
Applicants may apply online, receive additional disaster assistance information, and download applications at: Coronavirus (COVID-19): Small Business Guidance & Loan Resources.
For questions on temporary disability insurance (TDI), unemployment insurance (UI), and other benefits, please review the COVID-19 Workplace Fact Sheet. Requests for assistance can also be made by emailing dlt.covid19@dlt.ri.gov or calling (401) 462-2020.
---
Plan, Prepare and Respond to Coronavirus Disease 2019.  We understand that for many of us in the ag industry, how you plan and adjust your business's plan varies greatly from the information in the CDC link above.  However, the above link shows the CDC's best guidelines to start with.
But we aren't in an office or "normal" business situation.  How do I adapt this to my farm? Stand? Field work? This link to URI's 3/20/20 "This Week in Vegetables" newsletter provides some helpful BMPs (no official guidance) on how to best mitigate risk to yourself, employees and customers.   (Great guidance there from Chris Callahan, UVM Extension.)
---
The situation with current COVID-19 pandemic is escalating unpredictably and as the RI Food Safety Team is monitoring the virus spread in RI, the above link provides some tips for farmers to practice safe food production.
---
In response to the spread of COVID-19, the Rhode Island Food Policy Council is aggregating information on available food access and food business resources and opportunities. This document provides information on available food assistance resources and opportunities for individuals and organizations to support community needs, as well as available food business resources and opportunities for businesses suffering negative economic impact to support our food economy.
---
There's a rush on food and essentials at stores, both large and small. Many shelves are bare but some aisles are still packed, as people pick over what remains after panic-induced hoarding. But the thing to note is the fact that grocery stores are still open, still peddling what they can — though you'll likely be hard-pressed to find pasta, frozen vegetables, cleaning products, and toilet paper.
So what role can farmers markets and local producers play during the coronavirus pandemic? A big one.
---
15 Days to Slow the Spread
"If you work in a critical infrastructure industry, as defined by the Department of Homeland Security, such as healthcare services and pharmaceutical and food supply, you have a special responsibility to maintain your normal work schedule."
These are the people that we will count on to help us get through this challenging time. The people who will keep us safe, keep us healthy and help us heal, and provide our food. This includes our farmers. They continue to work diligently on their farms, raising the food that our nation and the world needs. We at RI Farm Bureau will be doing all we can to ensure Rhode Island's farmers have the ability to continue to provide safe and abundant food to RI and beyond.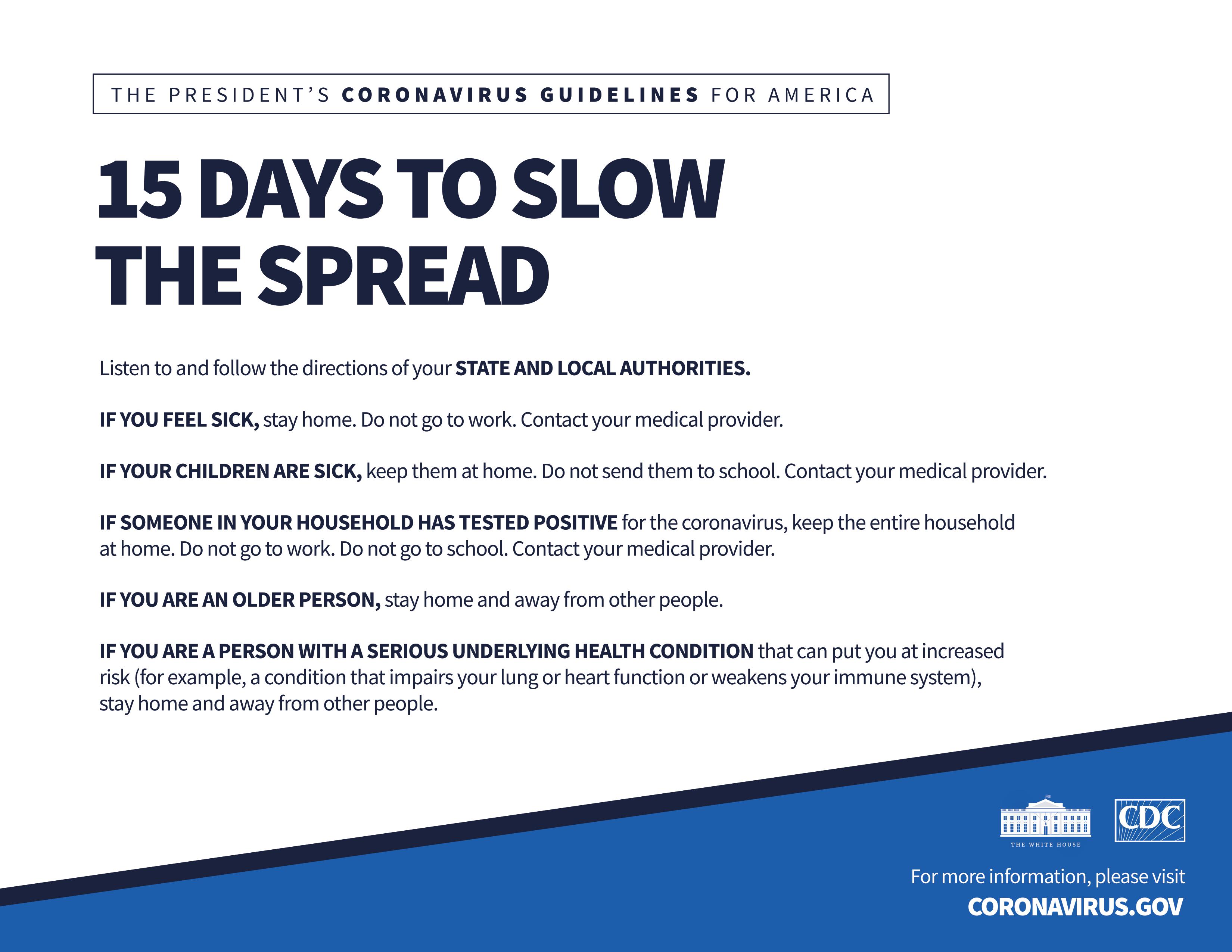 ---