2021 AFBF Virtual Convention

If you registered for the AFBF Convention before it ended, and received log-in credentials, you may continue to access the site for 90 days after the convention ends on January 13.  
The 2021 AFBF National Convention was to be held in San Diego this January, however due to the COVID-19 pandemic it has been changed to a fully virtual convention.  For the first time ever, this will allow all Farm Bureau members to attend the convention albeit virtual in nature.
This year's American Farm Bureau Virtual Convention will be held January 10-13, 2021, and for the first time ever, registration fees are being waived to give all Farm Bureau members and anyone interested in agriculture the opportunity to experience one of agriculture's premier events from the comfort and safety of home.
"We are excited to open up the doors of this event and to bring home the high-quality content our attendees have come to expect from our events," AFBF President Zippy Duvall said. "Our featured speakers this year are no strangers to Farm Bureau. We are honored to have Mike Rowe, Rorke Denver and Beth Ford join us as we reflect on this unique year and press on, stronger together for agriculture and our rural communities."
Participate in educational workshops to advance your leadership skills, expand your business acumen, and gain deep insight into the trends and realities impacting food production. Witness cutting edge innovation in agriculture, hear from powerful speakers, and explore the virtual trade show to build a stronger network, shop featured products, and idea-share with other state and county Farm Bureaus.
This open invitation is a rare opportunity to attend the American Farm Bureau convention free of charge simply by registering. Registration will provide access to live sessions as well as special on demand programs focused on hot topics in agriculture. Featured live events include:
AFBF President Zippy Duvall's annual address
Ag Innovation Challenge
Young Farmers & Ranchers competitions
Foundation Night In, featuring soon-to-be-announced musical performances
Workshops focused on what farmers and ranchers need to know in 2021
Workshop topics range from the future of the livestock industry to financial planning for disasters and from standing up for agriculture with effective advocacy to sustainability in 2021 and what it will mean for farmers and ranchers.
You may view the full agenda here, and register for free here.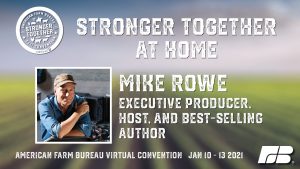 Featured speakers include star of Dirty Jobs and author, Mike Rowe; Navy Seal Commander, Rorke Denver; and Land O' Lakes President and CEO, Beth Ford.  Country singers Sara Evans and Phil Vassar will perform at the American Farm Bureau Foundation for Agriculture's Foundation Night In on Jan. 11 at 5 p.m. Eastern. The online Foundation Night In is open to all who register for the American Farm Bureau's Virtual Convention, Jan. 10-13. Registration for Virtual Convention is free and open to the public.
The first 1,200 people to register for Foundation Night In will receive a free copy of the Foundation's 2021 Book of the Year, which will be revealed at the event. The Book of the Year author and illustrator will be virtually on hand to receive their recognition.